When faced with a customer who is less than happy about your optical products or services, your gut reaction may be a mixture of anger, confusion, panic, and annoyance. However, you should keep calm, composed, and defuse the situation as quickly as you can. What methods do you currently have in place? Do you think your staff could use a lesson on calming angry customers?
We want to help you understand where the customer is coming from and meet them halfway. Without placing blame or making excuses, you can skillfully solve the problem and maybe keep the customer for the long-term. In today's post, we're mainly focusing on customers that get upset over things you can't always control, such as delayed orders, strict return policies, canceled exams, or other inconveniences.
Dealing with Angry Customers in Your Eyecare Practice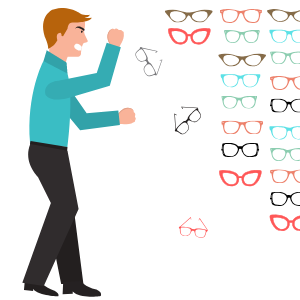 1. Listen to Them

Sometimes, a customer isn't just angry about the situation at hand. They might have a whole host of personal issues happening behind the scenes that are fueling their fire. If your practice didn't make a mistake or there isn't an immediate solution to the customer's issue, just let them talk through it while you listen. Ask them what happened, what they need from you, and any other open-ended questions that show you're here to support them and not be defensive. Even if the practice or staff hasn't done anything wrong, now is not the time to prove that.
2. Separate Your Emotions
We know you hear this quite often, but the customer does not know you personally, so don't take their anger personally. It's important to remember that the customer's complaints don't necessarily mean you or anyone else has done a bad job. Make sure you focus on calming the customer rather than get offended. Whenever you do respond, do not show any overtly negative or positive emotions. Simply nodding and making eye contact when the customer is speaking is enough to assure them you're not there to argue.

3. Show Sympathy
Use their name in conversation to show that you don't see them as just another customer, but one you value. Tell them you understand why they're upset and reassure them that you're going to do everything you can to fix the problem. Sometimes, you have to repeat their concerns back to them to show that you were actively listening and thinking of solutions.
4. Rectify
Once you've calmed the customer down enough that you have a chance to come up with a solution, you can begin to fix the issue. Let them know what you're going to do before you start and ask them if that'll help. If the customer has come to you in order to solve the mistake of your team mate, you should still let them know you're handling it. You can always consult the OD and other team mates behind the scenes, but an angry customer doesn't want to explain themselves to more than one person.
If there is no immediate solution, let the customer know you're working on it. Then, ask the customer if there's something they need from you in the meantime.
5. Apologize
After you've agreed on a thorough solution, you can give the customer a sincere apology. They are more likely to receive it well knowing that you've taken the time to listen to them and correct their source of anger. Apologizing is especially necessary when the situation isn't something that can be fixed quickly.
6. Log It & Follow Up
It's always a good idea to log the incident in the customer's file for future interactions. It can help inform how the rest of your staff speaks to the customer and set a protocol for dealing with angry customers moving forward.
After about a week, follow up with a call or talk to the patient in person if they're available to make sure their concerns were addressed thoroughly. Not only will they appreciate it, but you'll get the closure you need to move forward without animosity.
Looking for more advice on the tough parts of running an optometry practice? Subscribe to our blog.