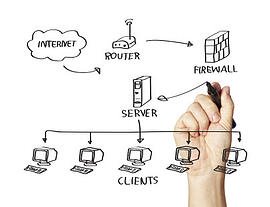 We've spent a lot of time focusing on the differences between cloud-hosted and cloud-based optometry office software. But there is a third option. Client-server practice management systems require a practice to have a physical server in their practice (or on a network they access) where their software is installed and the data is stored. And many practices out there have experience using this type of system.
With a client-server system your practice gains full ownership of the hardware and software and is ultimately responsible for maintaining it. And this gives you the ability to customize the setup and manage upgrades manually along the way. However, all of this doesn't come cheap in time, knowledge, and money.
While you will have to make the initial investment in hardware, you also have to make sure you have the infrastructure to run it, and the resources to keep up with maintenance, backups, upgrades, and security.
The Client-Server Optometry Office Software Rundown
What is It?
Client-server systems refer to the situation where your practice owns servers that are housed locally in your practice. The software and all of your data is stored on the local server.
What's Great About It?
You get full ownership of the software and hardware
Everything is on-site and easily accessible
What Do You Need to Think About?
Cost of hardware
Knowledge on installations and maintenance
Manual data backup and security measures
Expertise to make updates and install upgrades
Commitment to one device (per software installation)
Could it be a Good Fit for Your Practice?
Do you prefer handling your practice management hardware, and have the resources to do this at your location?
Do you possess technological prowess to work with networks and databases?
Do you have the time and expertise to handle server set-up, maintenance, upgrades, and security?
Are you willing to invest in hardware and set-up costs?
Can you meet high security standards?
Do you mind being contained to your office to access your system?
Want to find out if a cloud-hosted or cloud-based optometry office software might be a better fit for your practice? Check out our eBook to get the scoop on finding out what system could be the best fit for your practice!