Whether it's a gift for someone else or yourself, getting a box of chocolates is a pretty fun adventure… until you get that one mystery piece that is unpleasant on your taste buds. It's fun to escape the boring standard chocolate bar and get something new with each bite, but you really never know what you're going to get.
Technology is a lot like a box of chocolates. If you go out and buy new optical software, be weary of what you're getting yourself into! Your new system is a long-term investment and commitment. We've come up with a short list of 'surprises' for you to be aware of before you reach into that box of technology.
Optical Software is Like a Box of Chocolates,
You Never Know What You're Gonna Get
Client-Server
Software – When it comes to purchasing software for a client-server solution, you'll have to purchase enough licenses of the software for however many computers you want the system installed on. And, when the system rolls out with a new upgrade to the software, it's likely that you'll have to re-purchase new licenses of the software in order to get the latest version.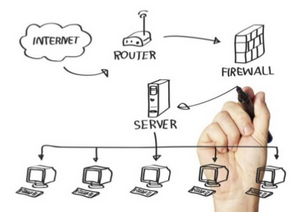 Hardware & IT– When you have a client-server system, you'll have to purchase and maintain a server in your office. On top of paying for the hardware, you have to ensure that you have the infrastructure in place to run it. And because the server is your own, it's your responsibility to keep up with maintenance, backups, upgrades, and security. So maintaining a server in your practice is going to require a hefty amount of IT knowledge! If you're not an IT whiz, then you may need some help buying your hardware and software. The initial set up is important – you want to make sure you get everything done correctly. So you should consider getting an IT consultant to make the process as painless as possible.

Cloud-Hosted
Software – If your software is offered as both on the cloud and an installed version, then you are most likely using a cloud-hosted system. Your software will still have to be downloaded or installed on each computer that will be accessing the system. And, if you choose to upgrade your system, this may prove to be a challenge like with the client-server system. Since the system wasn't built for the Internet, upgrades are going to take time and could come with additional costs as they still have to be installed on each computer.
Hardware & IT – Since the cloud-hosted system is a hybrid between a client-server and a cloud-based system, it's a little bit of both. Cloud-hosted solutions take the burden of server and hardware installation, maintenance, and security to a third party vendor (typically your practice management & EHR vendor). This will help you save on purchasing hardware and there is no need for an IT consultant. If you want to access your system from outside of your office, you'll have to consider purchasing a VPN client to gain access from a remote location.

Cloud-Based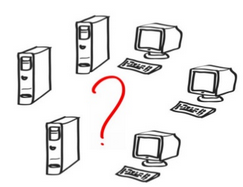 Software – Cloud-based software is built for the Internet, and located in the cloud. When purchasing this kind of system, you are generally asked to sign a yearly or monthly contract, and you pay on a subscription basis. Because you access your system by logging into a web browser via the Internet, you don't have to worry about purchasing multiple licenses to download on each computer. Better yet, upgrades to the system happen automatically and at no extra cost to you.

Hardware & IT – If your system is cloud-based, you have no need to worry about servers in your practice. All of that is hosted, maintained, and secured by the cloud vendor. You also have the freedom to choose your device – desktop, laptop, or tablet – as long as the device has Internet browser capabilities.
For more information on the differences between client-server, cloud-hosted, and cloud-based practice management & EHR solutions, watch our on-demand webinar.
Editor's Note: This post was originally published on February 5th, 2014. It has been updated for relevance and richness of content on October 22nd, 2018.