You want to build a staff with a diversity of skills, personalities, and interests in order to meet the needs of your diverse patient base.
Different personalities in your staff will cater to different patients. For example, confident and knowledgeable patients might respond better to a bold optician than patients who aren't sure of what they want.
In an effort to train your team to address patients of all backgrounds, you'll need to get to know your staff better. We're here to help you match your staff with your patients so that you can focus on patient care.
Capitalize on Your Optical Staff's Strengths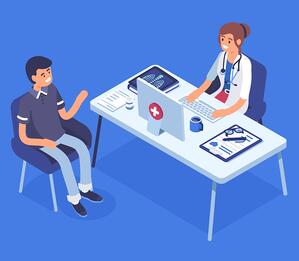 Understand Your Staff

Start with administering personality tests to learn more about your staff and how they work in teams. Also, take note of each employee's product messaging, patient interactions, and general demeanor day-to-day. The first step is to hone cohesive sales techniques, offers, and a practice voice before establishing which team members work best with each group of patients.
Some people will be more energetic and enthusiastic, but might have highs and lows of energy. Other employees could showcase a strong and stable work ethic, but find it harder to connect with patients and close sales. Creating an organizational chart could help you map strengths and weaknesses.
Cross Train & Coach
If you have time, have your staff shadow each other to cross-train and build their weaker skills. Although you'll have to be discreet when reviewing how an employee handles or mishandles conflict, you should address wider improvements during team meetings. Analyze every piece of direct patient feedback or staff review one-on-one with each employee to make sure they understand how to move forward.
Match Tasks
When it comes to your dispensary and product sales, aim to hire versatile opticians who can communicate a variety of use cases for your lenses, frames, and accessories. However, some opticians rely on subtle nudging while others are more direct and aggressive. Communicate individual strengths honestly with your staff so they're aware of which customers they should guide.
Your ultimate goal should be to have a lean team who are able to tackle any issue that may arise with billing, patient education, scheduling, and more. However, make sure that your disarming and calm staff members are available to deal with more difficult patients. Don't forget that optometrists have the time to delve into personal conversations and they should build rapport with patients that can help the entire staff understand patient buying motivations, budget, and needs.
Our ebook, Expert Staff Management in Eyecare, provides more tips on being an effective leader and manager in your optometry practice. Download it below.