Don't let a lack of comfort when it comes to accounting, budgeting, expenses, and spreadsheets in general hold your eyecare practice back from growing. Although outsourcing your insurance filings and financial needs is always an option, there are a few very simple responsibilities your staff can learn to handle in-house.
We want to make sure you feel confident handling your own money, reducing overhead expenses, and identifying areas that are scalable in your practice. That's why we've compiled a handbook about how to run your small business to maximize your profits.
Keep reading for insights into financial management in an optometry practice. Even if your practice has been around for years, there is always room for improvement.
Finance & Accounting: What ODs Need to Know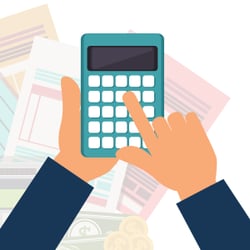 Data Reports
Data rules in managing a business. Data tells you which staff are pulling their weight, if you can pay your bills, and what is profitable in your business. Having the right tools in place will help make it easier to manage basic financial data reports that you should be paying attention to on a weekly basis.
By generating and looking at your reports on a monthly, quarterly, and annual basis, you can have transparency into your expenses and usage. These reports can tell you which inventory you should restock or stop buying, which insurance providers pay you the most, and which recurring monthly expenses you actually need.
Reducing Fees
As you are already aware, running an optometric practice is expensive. While most practice owners expect that they'll incur fees for general office overhead like utilities or rent or hiring an in-house accountant, there are dozens of smaller expenses that many owners might initially forget about. We'll detail these smaller expenses in our ebook below.
We will also address the following major challenges of financing and accounting for your business expenses:
Identifying important financial reports
Saving money on everyday processes
Choosing the right digital accounting tools (with suggestions)
Download the full ebook below for money management tips & tools.