Thinking about starting your own practice, or maybe opening an eyecare related business, but don't know where to start? The kind folks at The Optical Vision Site have found an optical resource for starting your small business.
We want ODs and the entire optical staff to feel empowered as small business owners. That's why we hope you utilize the following online resources, both free and paid, before making transformational business decisions. Read on to find organizations, information, and meetings to grow your practice.
Use this Optical Resource When Starting a Small Business
Online forums are a great way to network, get new ideas, or learn quickly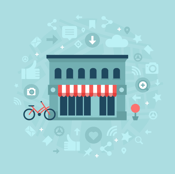 about a pesky problem, but the basics of starting and running a business have not changed. That is where the Small Business Association comes in. Started in 1953, they have steadily grown to assist small business owners in starting, growing, and assisting them in all aspects of running a business.

If you have questions it's easy to set up an appointment with a SCORE counselor near you. All you have to do is go online and put in your zip code for a counselor near you. SCORE is a nonprofit association with thousands of volunteer business counselors and mentors throughout the U.S. trained to help guide aspiring entrepreneurs and business owners. If you aren't sure you want to do that, you can attend a SCORE event at the local level.

It does not make any difference whether you are an optician, optometrist, wholesaler, importer, retailer, bootstrapper, manager, or spouse. This is about business basics, which do not change. Instead of spinning your lenses, take a few hours and see a specialist.
You can start your research with our guide to setting your business processes up for success. Download our free ebook below.
Editor's Note: This post was originally published on June 7th, 2017. It has been updated for relevance and richness of content on November 6th, 2018.