Today's post comes from our friends at The Optical Vision Site. Not every patient you serve in your practice is a walk in the park. On a daily basis you deal with difficult patients, for a variety of reasons. So how do you know when it's time to "fire a patient". Have you ever had to do this in your eyecare practice?
When Should You Fire a Patient in Your Eyecare Practice?
Nobody likes to lose a hard-won patient. But, as much as you want
to make the customer happy there are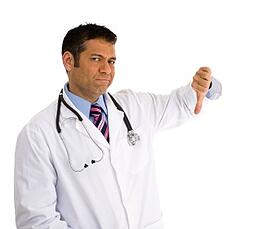 just some times when you have to let them go. Firing a patient used to be easy - make them miserable and they will go away. Not anymore. Now if you make them miserable they will shout it to the roof tops.
"They hurt my feelings."
"They couldn't save my eye, I don't care if I slept in my contacts for 6 months (I'm not responsible for my behavior)."
"I shouldn't have to read the fine print on refunds - who reads those things anyways!"
While there are many reasons you can fire a patient, before you do, make sure everything is completely documented and you are "firing" them for the right reasons.
7 Legal Reasons You Can Fire a Patient:
1. Patient repeatedly makes appointments and cancels at the last minute or misses appointments completely.
2. Patient doesn't pay their bills.
3. Patient becomes abusive or aggressive towards staff.
4. Patient is non compliant.
5. OD no longer accepts the insurance plan.
6. Practice is closing.
7. Patient seeks drugs for recreational use.
Other Reasons You May Want to Fire a Patient:
1. Patient threatens to write a bad review on YELP or other social media.
2. Patient continually demands inappropriate refunds back.
3. Patient refuses to provide necessary information, i.e. insurance, address, phone, etc. Or, patient refuses to sign off on forms.
Before you jump on the bandwagon and get the patient out of the door, make sure all of your legal ducks are in a row. As a doctor, the patient has the right to continual care, and while they can "fire" you every day of the week, you cannot simply fire them.
When You Fire a Patient You Must:
1. Have complete documentation as to why.
2. Must put in writing and send via certified mail with a return receipt.
3. Must include a choice of other eyecare professionals in the area.
4. Must let them know they are being dismissed.
Resources:
For more posts like this one, visit The Optical Vision Site!