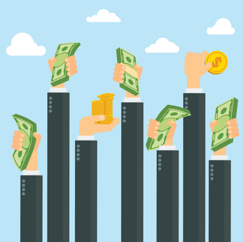 Managing claim reimbursements from both vision and medical insurance claims can be an error-prone task that threatens your optometric practice revenue. As claims pile up, rejections go unworked, and your practice rotates through billers, your revenue stream from insurance claims can create struggles for your optometry practice.
With insurance claims making up a larger contribution of your optometry earnings, you need to focus on ways to maximize profit, productivity, and post acceptance from your claims. Whether your biller is overworked, or that the turnover rate in the biller role is too high, the result of not following through on claims can be disastrous to the future of your practice.
Your Guide to Making More Money on Your Optometry Practice Claim Reimbursements
If you haven't evaluated your practice's ability to maximize vision and medical insurance claims, use this guide to identify where you may need help and your different options for managing your claims more efficiently.
Download your guide and you'll discover:
The challenges affecting your ability to collect revenue from insurance claims
The options for overcoming the common claims challenges
The benefits a revenue cycle management service will have on your practice