One of the most difficult parts of a self-evaluation process is
stepping out of your role in the optical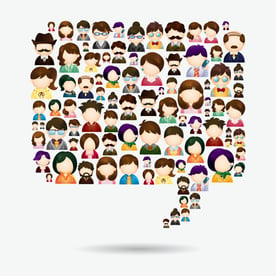 practice and viewing your practice from your patients' perspective. Patient satisfaction surveys help you do just that.The reality of patient satisfaction surveys is that they can help you identify methods and ways of improving your workflow and overall quality of care by giving you an inside look into your staff's behavior and performance. Managing eye care is a full time job, and an OD can't supervise their staff at all times, and sometimes, how your staff act around you might be different from the experience patients have with your staff when you're not around.
Satisfied patients are easier and more rewarding to care for, take up less OD and staff time, are more compliant, and are more likely to give referrals. Improved patient satisfaction decreases the length of patient visits, reduces treatment expenses, and increases patient loyalty. Use these tips below to understand the benefits of patient surveys as well as tips to begin creating your own survey.
Managing Eye Care:
How to Extract the Honest Opinion of Your Optical Practice
Benefits of Anonymous Surveys
In many optical practices, the office staff spends more time with the patient than the OD does. Due to this, one of the most important assessments of your practice is how well staff members are performing their duties in each area of your practice. Generally, patients are more likely to answer survey questions about your practice truthfully if they know their identity is protected.
Make every effort to keep the survey process anonymous, to calm the respondent and ensure complete honesty. Patients might be nervous to complain to the doctor or staff directly during an appointment because they don't like the confrontation or are worried that it might affect their care. Having the opportunity to share feedback with your practice in a survey might allow you to save any unsatisfied patients, instead of them finding someone new and your practice losing the revenue.
In some cases, patients may want to provide their names, so they could ask to have a staff member contact them about their comments or concerns. But it's important to give the patients the option to express their opinion privately.
Survey Options
Practices can collect feedback from patients in many different ways, such as: phone surveys, written surveys, focus groups, or even personal interviews. The easiest way is probably through written or online surveys, as they always tend to be the most cost-effective and dependable approach. Once enough respondent data has been collected, you'll be able to assess the consistent level of patient care you are hitting. Creating a simple, yet effective system for keeping track of your data is a necessary step as well, and it is almost entirely up to you.
While the format of your written or online survey is completely up to you, we suggest keeping it short and including an open-ended question within your survey. This gives the patient the chance to write any concerns they have in detail and promotes another opportunity to learn of any inefficiencies unrecognized before. Another thing to consider is offering a reward for completing the survey as an incentive. This could be anything from being entered into a monthly drawing for a $50 gift card, or a percentage off of their next frame purchase.
If you're using a patient recall system chances are you might be able to send out automated patient surveys straight from the software!
Think about how You Word Your Questions
How you word questions in a survey is extremely important, and requires extreme attention to detail. Survey questions should be focused, unbiased, and easy to understand. Try to avoid asking vague, or double-barreled questions. Rather than asking, "How would you rate our staff?" delve a bit deeper with a more specific question such as, "How would you rate the friendliness of our receptionist?" This will promote patients to develop their answers further, and create a more unique conversation between the practice and patient. And, if you ask broad questions about your staff as a whole it might be harder to pin down which team member is providing excellent customer care, and who isn't.
Rand.org provided a template for creating a written medical patient satisfaction survey. The patient satisfaction questionnaire covers 50 items that assess satisfaction in six areas: technical quality, interpersonal manner, communication, financial aspects of care, time spent with the physician, and accessibility of care. While a 50 question survey is too lengthy to expect your patients to fill out, it can be a great guide to getting started on wording the questions within your own survey!
Evaluating Responses
The number of responses is important for validating any action that stemmed from patient survey data. You have probably heard that patients are ten times more likely to share a bad experience than a good one, and that could prove true in your survey results. So one bad critque of a staff member could just be from a patient who has had a bad day, but if bad survey results keep occuring it might be time to assess the best way to handle the situation. As you compile responses over time, the results become more and more valid and reliable. You are not trying to completely summarize and fix a "problem", rather highlight areas where remedial action is needed in the practice.
A good thing to remember throughout this entire process is that your end goal is to improve quality, not to place blame. Patient satisfaction survey criticism and all of its benefits will help lead to better practice performance, increased quality of care delivered, and more patient referrals for your practice!
To learn more strategies for recognizing inefficiencies in your practice, subscribe to the VisionWeb blog below!