Recent poll numbers show that 4 in 10 workers feel that their company is understaffed. Think about your office workflow. We know that running a practice is hard work and can sometimes feel overwhelming. But is understaffing, or perhaps overstaffing, chipping away at your bottom line? Neither is good to have in your practice. Understaffing cause employees stress, decrease in customer service, and multi-tasking which leads to mistakes. On the other hand, overstaffing is an inefficient use of resources.
Understaffing is more common compared to over staffing, but we'll go through both scenarios and signs that indicate that your practice is in need of a shake-up.
Overstaffing and Understaffing in Your Office Workflow
Understaffing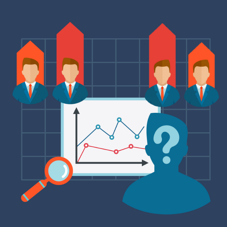 When was the last time you received employee feedback? Or even encouraged it? Annual reviews are a good time to get feedback from your staff. Are most of them complaining about stress and long hours? If you haven't received feedback, these are signs to look out for:
Increase in mistakes
Increase in customer complaints
Increase in overtime hours clocked in
To address understaffing, you should consider hiring extra help. Determine how much overtime your staff is clocking in total and that will help you decide if you need a new full-time or part-time staff.
Adding headcount will mean an increase in practice overhead. But will it allow your practice to run more efficiently, see more patients, and ultimately generate more revenue? It's worth considering before you make a decision to stick with a schedule that overworks your staff.
Overstaffing
Laying off your staff to address overstaffing should be your last resort. Here are some things you can do before you decide to let your staff go:
Schedule more efficiently. Try tweaking your staff schedule according to your patient schedule. Not everybody has to do the 8-5 shift. On busier days, you can schedule more staff.
Market your practice. If your practice is experiencing overstaffing due to the loss of patients, try pumping in a little effort into marketing. This is a chance to grow your practice and bring in more patients.
Implement furloughs. A furlough is a temporary, defined period of unpaid time off, at the end of which the employee returns to work on a paid basis. You could customize the terms of your furlough depending on your situation. For example, you could reduce their work week to a three- or four-day work week and give them the freedom to choose the days off.
These suggestions are common solutions for solving understaffing and overstaffing issues, but will vary depending on your practice's situation. We recommend consulting a professional staffing service if you need help deciding on the best course of action for your practice.
For more tips like these, read our staffing ebook.