Baby boomers are retired or retiring and experiencing an increasing number of vision-related issues and diseases. Of course, this might mean more frequent visits to an optometrist, but it also means they have different needs than those with younger, healthier eyes.
You'll want to make sure seniors feel comfortable and cared for in your office, especially over the next decade. Maintaining a senior-friendly eyecare practice starts with making it accessible for wheelchairs, but also involves changing your communication style, training your staff, and supplying the right products.
Read on to see how you can cater toward seniors without losing your eyecare practice's modern edge.
Is Your Optometry Practice Fit for Elderly Patients?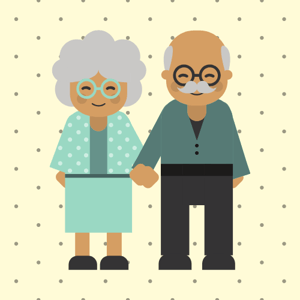 Make Space
Senior patient appointments should be 1 to 1.5 hours long. By extended the appointment time, you're putting your older patients at ease and preventing mistakes. If your patients regularly use a computer or smartphone, showing them around your patient portals in your practice management software before the appointment might be helpful. During the exam, the patient will feel less rushed when making phoropter decisions, will be more likely to ask questions and share information about their eye health, and will realize that you care for their well being first and foremost. When it comes time to checkout, you might have to answer a few more questions about Medicare or Medicaid, so leave time for that as well.
Additionally, you should make physical space for wheelchairs, walkers, canes, and purchase comfortable seating. Use sturdy folding chairs for exams, make sure all walking distances are short, and greet the patients in the waiting area.
Adapt Communication
Your staff should be trained on adapting their communication for senior patients. Speak slowly and clearly, because both you and your patients would get frustrated with constant repetition. Your informational material, diagnosis, prescriptions, and any other written or typed communication should be in large, black text.
The most important part of caring for senior patients is being diligent but gentle when discussing glaucoma, cataracts, macular degeneration, ocular hypertension, and other age-related eye diseases. They may have not heard of some of these issues and might get concerned. Arm them with digestible knowledge, pamphlets, and realistic risk expectations. While you should explain everything in simple terms, make sure to let the patients know they can always call you with questions and visit you as often as they need.
Know Their Taste
When it comes time to choose frames and products from your dispensary, opticians should bring the products to seniors who are less mobile. You don't want them to get tired and feel ready to go home to rest after a long appointment.
Usually, the patients know what styles they want and like. However, if they want heavy glass lenses or trifocals that are a bit outdated, you might want to let them know the benefits of newer technology. From tinted lenses to glasses holders, opticians should read up on eyeglass trends for seniors in your community before making suggestions. The glasses they wore when they were young might be back in style today, but they may not be aware of this. Empower them to explore brands they are not familiar with while also carrying their tried-and-true shapes and colors.
Finally, seniors tend to have dryer eyes, so supply them a complimentary sample of artificial tears before they leave. Also, senior patients value good customer service, polite manners, and personable staff. Feel free to get to know them and make it easy for them to return year after year.
A modern practice caters to the needs of all your patients today. Download our free ebook to find out how.