Content Management Systems (CMS) are powerful tools for constructing your own website with little to no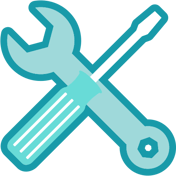 coding or technical knowledge. There are plenty of CMS platform options out there, but the following are some of the most popular and easy to use. These CMS platforms are popular because they include far more pre-built templates and applications to choose from, as well as plenty of guidance and information on the web to help you get started. Plus, not every small business has the budget to outsource the development and management of their website, so these options are friendly on your wallet too!
For those of you with limited computer and coding knowledge we had our in-house web developer compile the web-based CMS options that will give you the quickest and easiest setup. These programs will help you create, edit, and organize your optical marketing content on your website seamlessly. The functionality, cost, and ease of use of CMS platforms make it a preferred choice for both established professionals and beginners.If you already know how to use a program like MS Word, you're already well versed enough to operate a content management system. So don't be intimidated!
Deciding which CMS platform is right for you takes research and an assessment of the technical skills of your practice. Below we want to get you started by giving you the basics of, again, the most popular CMS platforms out there!
Keeping Your Optical Marketing Organized and Strong with CMS Platforms
Wordpress (wordpress.com)
Wordpress is mostly know as a blogging platform, but has evolved to be the most used content management system. A major advantage to Wordpress is that it's SEO friendly. Also, it has a mobile app for publishing content to your site from your phone. Among other things, Wordpress offers full responsive themes, a multilingual platform, and social media integration making it a very popular CMS.
Squarespace (squarespace.com)
Squarespace comes equipped with 32 templates, and is a responsive and mobile-friendly CMS platform. Some of its biggest strengths are that it has a unified, simple, and easy-to-use interface that is still highly customizable. This is a widely known CMS platform and can be a very good match for those who have very little technical knowledge.
Weebly (weebly.com)
Weebly is equipped with a drag and drop interface along with HTML/CSS control for full customization. Weebly has over 100 customizable backgrounds with 20+ mobile themes. Weebly does a great job at integrating third party elements into your site. An example is that you can simply add any YouTube video URL or video ID to embed the video in your site using the "YouTube" element offered by Weebly. So, if your site has lots of video elements, Weebly could be the right choice for you!
Wix (wix.com)
Wix is known for its drag and drop interface as well, and the 100's of templates you can build from. If you want the freedom to be more creative,you can build from a blank canvas. One thing to remember about Wix is that once you choose a template, Wix doesn't allow you to switch to a different template! They are mobile capable but you must customize the mobile version separately. A major advantage is that Wix includes an app market with 250 apps to integrate into your website. So, Wix has lots of options, but can be confusing and overwhelming for the less experienced.
Joomla (joomla.com)
Joomla is a web-based CMS platform and is completely free, although more limited than others platforms. It comes with a small number of pre-selected templates and no option for a custom domain, so domains that travel through Joomla will be seen as: ODJohnEyes.joomla.com. Joomla does integrate Google Maps and Google Analytics allowing for a targeted viewing audience.
So, if you're looking to redefine how you handle your optical marketing, one of these content management system resources seems to be a no-brainer for small and large optical practices. The benefits are great, and the process is pretty simple!
Explore the other ways to improve your practice's optical marketing by subscribing to the blog below.