We've gone over what content to include on your website, how to market with your website, and how to stand out for mobile users. However, we wanted to cover the basics of actually making an optometry website without any web development background.
If you're just starting your research on website building, you might feel overwhelmed by how many options and avenues there are. We'll strip it down to the basics and help you get started.
There are few pieces of infrastructure you have to get right when you first set up your website. From domain hosting to site management to design templates, the process can become too technical for your optometry staff. If you're looking to revamp your practice's website or create one from scratch, we recommend following these steps.
5 Steps to Making an Optometry Practice Website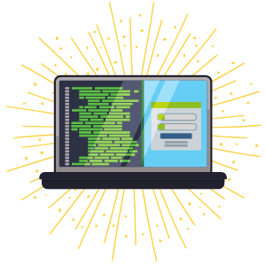 1. Builder Platform
There are quite a few platforms out there that will not only host your domain, but also build your website for you. Though you can make a case for hiring a front-end developer to create your site, most of these hosts use widgets and even user-friendly AI tools to get the job done. We found that Wix, Squarespace, Wordpress, and Weebly were strong contenders. Your practice's site builder should be mobile responsive, handle technical SEO, allow a space for a blog, and be highly secure.
You can start with the free plan or free 14 day trial to make sure it's a platform you're able to work with first. It might also be a good idea to have one person on your team own the project from setup to go-live. Then, when you're ready to invest money into your builder, your entire team can learn the basics of how to update and change the site.
2. Capabilities
Of course, your website should have the basic capabilities of showcasing your practice's mission, values, interiors, success stories, partnerships, and insurance networks. Give your current and potential patients all the information they could possibly need on a few "about" pages. However, make sure your website is also equipped with the right amount of storage, lead tracking or capturing abilities for marketing needs, and custom code writing options for further down the line.
In the likely case that your practice grows exponentially, you'll want a website that can keep up. If you already have a website, make sure you can easily and intuitively migrate your existing information over to the new host or builder.
3. Chatbot
Depending on the size of your team and your available resources, you might want the ability to enable a chatbot feature. A chatbot is an instant messenger screen that automatically pops up for visitors browsing your website. You can choose which hours you'll have someone on your staff responding to questions, so that it's convenient for you. It's useful to help convert visitors into patients quickly.
If your staff can afford to have someone managing the chatbot for a few hours, it's a capability you might want to set up for your website in the beginning. Take note of conversations, because then you can track and fix the parts of the website users are finding hard to navigate or highlight information they're looking for but can't easily access.
4. Budget
From hosting fees to domain name purchasing to design or development contractors, there are a few annual and monthly fees you need to account for before starting your website. These fees are detailed in this article online. Don't forget to invest a bit in display or search ads to gain traffic for your website, too. Set aside a budget for starting a website, but make sure to take these extra expenses into account.
5. Expansion
How does your website complement your existing software solutions and processes? Do your patient recall messages and email newsletters link back to blog content on your website? Does your patient scheduling platform sit comfortably and visibly in your top navigation? What if you want to add an online shopping platform later on? You can check out Dr. Ali's well-established website for an example of a practice that does all these things. Your website should be equipped to handle the potential expansion of your practice as well as any customization you might need.
That's why we recommend that you use all the free resources available through your website builder before hiring a developer or designer. Take the first few months to note down how users are reacting to your site and what parts of the user experience need improvement. Then, you can invest some time and money into fine tuning.
Looking for more ways to boost engagement and grow your patient base? Subscribe to our blog for all our expertise.