It's no secret that it's important for your eyecare practice to have an online presence. Your patient base is spending more and more time online, and you need to create a website that makes a good first impression and welcomes new people into your practice. Personally, I value a business's website very highly when I'm searching for new companies to do business with, and a bad website can turn me off from a business quickly.
7 Reasons Visitors Leave Your Optical Practice Website
No About Us or Staff Bios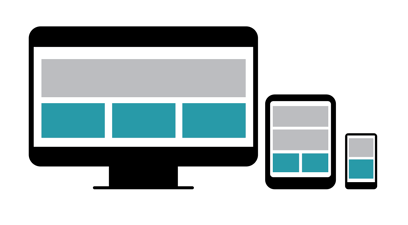 Especially in healthcare, your about us or team page is going to be a sought after page for website visitors. Most people prefer to put a face to name, and understand a little more about you and your team before doing business with you. This is just one small way you can start to build a trusted relationship with future patients.
No Contact Information
Contact information on your website is important for local SEO, and for your visitors to easily be able to contact your practice if they want more information or to book an appointment. If you don't make booking an appointment easy on them, visitors will find a practice that does.
No Patient Reviews
Customer reviews and testimonials are a great attention grabber, and will help build trust and credibility with new visitors to your site. Word of mouth advertising is probably one of the most powerful marketing tools out there, so why not show it off on your website.
No Social Media Links
Having a good, modern website is a great start, but supplementing that presence with social media pages is a great way to keep in touch and adds another avenue of communication with patients. Engaging with your followers on a regular basis is going to build trust, loyalty, and expertise among your target audience.
Not Mobile Friendly
A big part of having a modern website is making sure that it is mobile friendly. Nothing is more frustrating than searching on your phone to land on a website that was made only for desktop viewing. It makes for a difficult navigation experience. To really hit home the importance of a mobile friendly website, here are a few stats on smart phone usage:
53% of mobile searches have local intent
67% of consumers are willing to buy a product or service on a mobile friendly site
94% of smart phone owners look for local information on their phone
Typos
It's important that your website represents the professionalism of your practice. If there are typos or bad grammar on your website copy, you're going to lose that credibility and professional appearance real quick. Make sure that you have multiple people proofreading and editing your website copy to catch any mistakes before publishing!
Bad Stock Images
This one can be a hard mistake to avoid if you're on a budget. A lot of small businesses will use a template style website due to ease of use, content management, and low costs. But, this also means that your website design is more limited and falls on your shoulders. If you can't invest in a designer for your website, hire a photographer to take pictures of your practice and your staff to use on your website, instead of meaningless stock images.
Looking for more practice-building advice. Check out our resource, Advice from America's Top ODs.