Making sure that you understand the needs, desires, and motivators of loyal patients can help you boost retention in your optical practice. As little as 5% increase in customer retention could lead to over 25% more company revenue (Reichheld, 2000). That's why we want you to focus on your existing patients before investing money into outbound marketing campaigns.
Developing a strong foundation with your patients starts with delivering excellent patient care, but can be nurtured though rewards, feedback loops, and patient-centric content. We'll show you how to delight your customers and dabble in relationship marketing in your optometry practice below.

How to Invest in Loyal Optometry Patients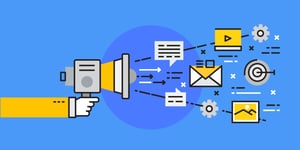 Rewarding your long-time patients and customers is a more reliable marketing tactic than spending money on acquisition campaigns. This is partially because retained customers buy more often and spend more than newer customers (American Express). Also, we don't think you should spend precious patient care time on developing new marketing techniques if you can focus on existing growth first.
Hubspot suggests taking the following steps for developing your relationship marketing strategy:
Provide personalized, customer-focused service.
Engage with the customer where they are.
Offer incentive and rewards for customer loyalty.
Create valuable content that tells a compelling story.
Collect feedback regularly.
Rewards can come in many different manifestations. Here are a few ideas to get you started:
Exclusive sneak peek at new products

Podcast, blog, or Youtube channel

Lifetime warranty

Zero-waste progress reports
The reason you want to offer rewards and incentives for staying loyal is to foster a relationship of trust. If your patients have organically started to recommend you to their network, they deserve to be rewarded for helping your practice growth. It certainly means less work for you.
For more tips on growing your practice through marketing and small-business strategies,
download our free ebook.