Just about every business is going to receive at least a few negative online reviews. Usually the customer truly had an unfavorable experience, but what about those Yelp reviews that are unfair and portray an inaccurate or exaggerated explanation of the situation? If your business doesn't have a lot of reviews in the first place, one negative review blown out of proportion can hurt your overall rating and may cause hesitation from new patients.
If you notice an offensive or incorrect review, there are steps you can take to try and get help from Yelp to remove reviews that violate their content guidelines. In case your request for removal is denied by Yelp, we have some advice for taking your own stance against these types of reviews.
Moving On From Negative Online Reviews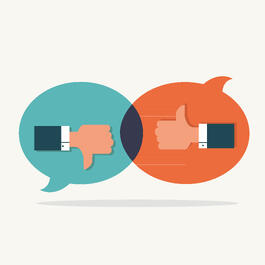 According to Yelp's support page, you may report a questionable review by including the pertinent information so that moderators can verify. Yelp says they generally allow their users to stand behind their reviews and reviews will only be removed if they violate the content guidelines. The review process may take several days, and in the the end the content might not get removed because Yelp doesn't take sides in a factual debate. So, it's up to you if you want to take the time to file your request for removal or to try and deal with the review on your own.
Steps for Business Owners to Report a Review on Yelp
If you feel a review violates Yelp's guidelines, you may report the review. If you haven't "claimed your business page" yet you'll need to do that first in order to report the content from that page.
1. Locate the review in the Reviews section of your business account.
2. Find the flag icon and click "Report this Review".
3. Yelp moderators will evaluate the review. Watch your email for a notification on the decision of the review. You can see which email address you've registered with Yelp in account settings.
If you decide that the review doesn't technically break any of the guidelines because it's just a bad review against your business, there are strategies you can use to try and resolve the issue on your own and move forward.
3 Ways to Move on From a Negative Yelp Review
Make Things Right
The most important thing to do after a bad review, is to try and make the situation right. Respond publicly to the reviewer, apologize, address the concerns, and encourage them to reach out to you privately to make the situation right again.
Ask Them to Reconsider the Negative Review
Once you've had the opportunity to make the situation right for everyone involved, you can ask them to revise or comment on the negative review with how the situation was resolved. However, you're probably not going to be able to satisfy every disgruntled customer, so make sure that the reviewer is truly happy before asking them to back up the review online.
Dilute the Bad Reviews
You and your staff can actively work to increase your online ratings by reminding your happy patients that they can share their story through online reviews. The more good reviews you have, the less the bad reviews will be noticed. However, be careful not to solicit reviews explicitly, otherwise you'll be violating Yelp's guidelines.
---
Subscribe to our blog if you'd like more quick & simple tips for running your optometry practice.
Editor's Note: This post was originally published on May 3, 2015. It has been updated for relevance and richness of content on July 30, 2019.