In an optometric practice, your staff interacts with dozens of people either face to face or over the phone every day. With the need to create positive interactions with every person your staff comes in contact with, it's important that you create a culture where your staff not only is excited to come to work, but also a culture where the positive vibe increases productivity and a shared success throughout the optometric practice.
In this post, we'll share a few tips on how you can build a positive culture to motivate your staff and increase productivity throughout your optometric practice.
How to Create a Productive Culture in Your Optometric Practice
Make Breaks Mandatory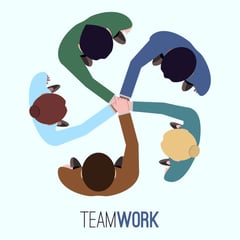 Taking real breaks throughout the day reduces stress, improves productivity, and increases effectiveness. By encouraging your staff to take breaks and regroup you can help prevent employee burnout and reduce employee turnover rates.
If you see that staff members are working through their breaks, check with them and see if there's too much on their plate.
Socialize Off-site
Often, building collaborative relationships in the workplace starts outside of work. Especially if your practice has an optimized office workflow that promotes efficiently moving patients through your practice, then your staff may not have time in the office to build relationships with each other. By hosting off-site events, you can get the staff members to connect to build trust and foster collaboration.
Some ways you can create socializing events are though:
Volunteer events
Monthly happy hours
Birthday lunches for the whole office
Document Your Culture
Your practice may have an employee handbook that describes how you want your staff to dress and behave. But is there anything about the culture you what to create in your practice? It doesn't have to be anything too extensive, but by simply documenting your culture code, you can set standards from the very beginning of an employee's time at your practice.
Everyone Contributes
If a key component of your culture is transparency, then you need to be open and honest with your staff members. The moment your staff thinks that you've deviated from your culture code, then you have failed, and the standards you attempted to create are invalid.
When it comes to culture, everyone contributes.
Subscribe to the VisionWeb blog for more practice building tips and resources.