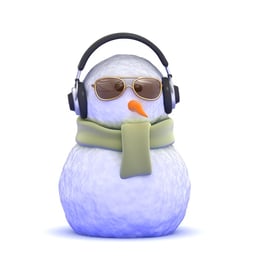 Over the last few years there has been a lot of discussion and controversy about the celebration of Christmas in the workplace. Being a religious holiday, celebrating Christmas in the office excludes other beliefs and holidays. After reading a few recent posts on this topic we have realized that this discussion is affecting eyecare practices too.
Anything from a Christmas tree in your waiting room to Santa stickers on your windows to having A Holly Jolly Christmas playing on the radio could potentially rub someone the wrong way, or make someone feel excluded. In your eyecare practice you never know what patients will be walking through your doors in December. We aren't saying not to celebrate Christmas, that's a choice for you to make, but if you're looking to avoid any potential controversy we put together a playlist to listen to if you're looking to get away from all of the Christmas music. Our list of music includes songs talking about the month of December, snow, cold weather, and cold beers! Happy listening and cheers to a happy holiday season in your practice!
Our Alternative Winter Playlist
1. December, 1963 - Frankie Valli & The Four Seasons
2. Your Winter - Sister Hazel
3. Snow (Hey Oh) - Red Hot Chilli Peppers
4. Love Like Winter - AFI
5. Big Freeze - Muse
6. Do You Want to Build a Snowman? - Cast of Frozen
7. Colder Weather - Zac Brown Band
8. A Long December - Counting Crows
9. Cold One - Eric Church
10. December - Sara Bareilles
11. Cold December - Matt Costa
12. Frozen - Tegan and Sara
If you want to stay up to date on the latest from our optometry blog, subcribe today and get our latest articles sent straight to your inbox each week!