It's that time again! The fourth edition of 10 for 10: Ten Questions for VisionWeb's Tenacious 10 is back and ready for action! Here you'll meet 10 of VisionWeb's Directors, Chiefs, and overall amazing individuals. Don't you want to learn about VisionWeb's company culture, our experts' observations and predictions of industry trends, new projects, and much more? Get ready, get set, and read on my friends!
Series 4: Chris Rice, Director of Sales
We can't wait for you to meet the man in charge of building close relationships with optical suppliers, laboratories, and manufacturers; VisionWeb's very own Director of Sales, Chris Rice! Chris is a stand-up guy and has an unmatchable personality! Everyone adores his charisma and humor. But, don't let his comical side fool you, Chris has been working in sales since 1997 and is extremely adept. In fact, his former colleagues describe Chris as having "the ability to drill down to tasks and strategies that help achieve solid results" (Joel Goldstein, MFV Expositions), and regard him as "an asset to any company" (Jacqueline Micucci, Amazon). The positive comments about him go on and on. So come and meet Chris behind the scenes. Spoiler Alert: learn how to boost your sales with his expert recommendations and tips!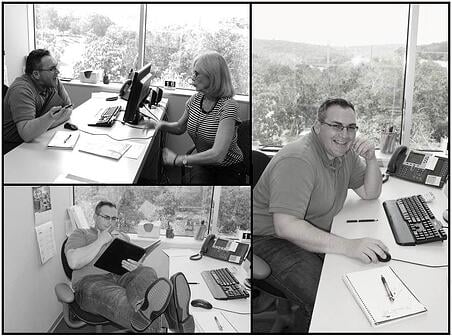 1. What exactly do you do here at VisionWeb?
My responsibilities at VisionWeb include overseeing our insurance team and leading efforts to grow the use of our services, like claim clearinghouse solutions, by working with our various partners. These partners include manufactures, laboratories, and associations. While my title says "Sales", I actually act more as an ambassador to these groups helping them better understand the services that we offer. By better understanding what we do we generate opportunities that lead to greater efficiency for our partners, increased productivity for ECP's, and more lens and frame ordering flowing through VisionWeb...Win/Win/Win!
2. Do you have any tips for eyecare practices trying to boost sales?
What I have seen as the key to success is to have each member of the staff understand and have ownership of their role. Successful practices understand the value of the optician in particular and the relationship that they have with patients. The optician has an interesting role since they not only need to address the patient's vision, but also the function and fashion of the eyewear they select. To be able to go about managing eye care tasks effectively, the practice must make sure that their staff keeps up with the latest lens technology and frame styles through continuing education and trade publications.
3. In your opinion, what can opticians use as selling points?
Opticians need to take time to educate the patient about the various products available and new technology that may help them see and look better. The more knowledgeable the optician is, the more comfortable the patient will be investing in better eyewear. The key is not to push, but rather to clearly explain the benefits and the value of the investment to the patient.
4. What qualities should managers look for when hiring a salesperson?
I think integrity is number one. Your sales people are the face of your company to the customer. What they say and how they act is a direct reflection on the company and the product or service you are selling. I also like to have people who are comfortable working as part of a team. While salespeople may have a perception of being very territorial, I believe that if your sales team can support one another and help out even if there is no personal gain, everyone will be more successful. It also doesn't hurt to be charming and funny too!
5. Obviously with the digitization of the marketplace, many purchases are happening online. How are salespeople adapting to this shift?
The role of the sales person is less of an order taker and more of a trainer/educator/business partner now. To me this makes the sales process much more interesting. I love the opportunity to spend more time with customers discussing their real business issues and what solutions may help them. I may not always have the solution they need, but may know someone who does. I love it when customers reach out to me even when they aren't looking for frame ordering solutions or opticians practice management software integrations, but want my advice on what they should do. My goal is to be seen as a valued business resource rather than just a salesperson.
6. Do you think salespeople can utilize social media to facilitate sales?
Yes! Social media is a great way to keep in touch and expand your network of resources. One piece of social media advice I have is that this platform is a great way to share information and even connect a current customer with a prospect to share their experience. There is no better sales tool than a happy customer!
7. Do you have any tricks for closing a big sale?
I'd tell you, but then I'd have to kill you... actually I don't have any tricks. I was taught to treat each sale the same way. Big or small every customer is important and should get the same level of service from me. Besides, a small customer now may be a big customer tomorrow and they will remember how you treated them!
8. What suggestions do you have when pitching to a hesitant customer?
The best thing to do is be patient and really find out why they are so hesitant. The best tool in this situation is to get them in touch with a current customer. Getting feedback from a peer has much more impact than anything I can say. In addition, I can do what I say I'm going to do... this goes back to building trust.
9. What do you predict to be the biggest trend relating to sales in the upcoming years?
I think you'll see customers becoming more open to value versus just buying on price. The recent economy has put price pressure on every segment of the supply chain in order to keep prices low and more often than not quality suffers or support resources are cut providing a poor post-sale experience. I think customers will be willing to pay a bit more for products and services to allow sellers to better support them.
10. What do you like most about working at VisionWeb?
Where do I begin... I LOVE the VisionWeb team and the passion they have for the business and thinking of new ways to support the eyecare industry. We have a great mix of people who each bring something different to the table. The diverse backgrounds of our team members create an environment that is very dynamic and creative.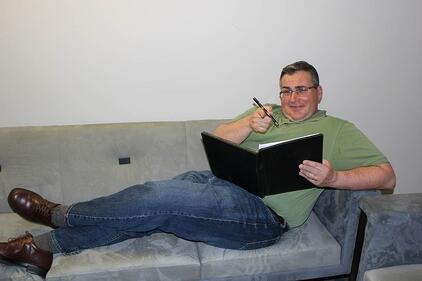 Chris really is an awesome guy with unparalleled work ethic and persistence. Our Director of Sales is as good as they come!
Don't miss out on the next installment of 10 for 10, where we will interview Scott Kollar, Director of Operations!
Subscribe to the VisionWeb Blog for alerts on the next 10 for 10!