Optometry patient care involves getting to know your patients' names and faces, especially those who return year after year. However, you'll sometimes encounter a patient who returns after they've been rude, left a bad review, complained about your products, or caused a scene in your practice. How do you react in these situations?
We first have to keep in mind that we all have bad days and make mistakes. Usually, the best course of action in the face of conflict within your practice is to keep neutral. You want the patient to feel cared for, think highly of your professionalism, and hopefully return. This doesn't change for negative patients. Let's go over three common scenarios and how you can respond to them.
3 Ways to Respond Neutrally to Angry Patients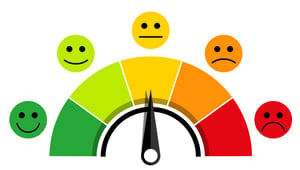 A Bad Review
The patient had a less than desirable experience and left a negative review on Yelp or elsewhere online, but schedules another exam. Firstly, we do recommend responding to negative reviews directly on the digital platform. The reviewer might want to reach out to you to discuss the situation in private. Also, take the fact that the patient is willing to return as a good sign. If you feel comfortable, ask them about how you could improve and keep an open mind.
However, if reading negative reviews can cloud your head, we suggest letting someone else in your office manage and respond to reviews. This way, you're not treating your patients conditionally in any way.
Patients Who Can't Wait
Running late in an optometry office is not only inevitable, but even expected during busy times and weekends. Although there are many external reasons (late patients, walk-ins, etc) that you might be running late, we suggest you don't attempt to convey excuses. Instead, tell annoyed patients that you don't compromise on patient care and needs, even if it means you run a few minutes overtime. That's why you can promise that when it is their turn, they'll not feel rushed in the exam room.
Customers Who Want Free Things
Sometimes people will come to your optical dispensary requesting adjustments or repairs for free. Firstly, we recommend having a written protocol for dealing with "free requests" so that everyone receives the same answer. Most optometry practices won't do these for free unless you purchased the frames from their dispensary recently. When people become upset, it's important to either lay out the options available to them or express your apologies that you can't assist them further, but don't match their tone or over-explain. They could become future patients if you are helpful without compromising your products and staff's time.
---
Subscribe to our blog if you'd like more quick & simple tips for running your optometry practice.