With the increasing temperatures, your patients are eager to get outside and be active. We've got you covered on educating them about polarized lenses and harmful UV rays. But, how do you tweak your sales messaging and products to accommodate for summer activities?
First, we urge you to chat with your patients about their work and leisure lifestyles. If you find that they are active outdoors, then you might be able to recommend a few products to them. Get creative when you stock your dispensary with summer products. You'll want to make sure you have your patients' needs in order to be safe and protect their eyes this summer.

Summer Recommendations for Optical Patients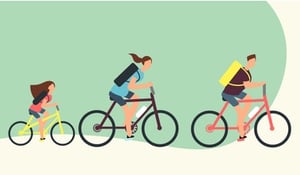 Water Sports
For patients who actively participate in water sports, you might want to offer them the option of purchasing prescription swimming goggles, a floating eyewear retainer for sunglasses, or a glasses gripper from your dispensary. If you don't already carry these products, you can establish a relationship with a supplier or order them online for the convenience of your patients.
Outdoor Races
Marathon runners, triathletes, and everyday runners alike might not know the benefits of wearing contact lenses. Aside from the risk of losing your glasses while running, the glasses can become damaged from a build up of sweat and sunscreen over the hotter months. Nudge your patients to try contact lenses for a week and monitor how it impacts their running. For many, it can reduce irritation and improve visibility during summer rains.
Traveling
With the school break, many families will be going out of town or even abroad for vacations, family visits, and more. They'll have short windows of opportunity for picking up their lenses and frames, so make sure you're using an online ordering platform. Placing orders over the phone and email can be tedious and end up taking longer for the consumer. However, online ordering allows you to track the status of your orders and compete with fast shipping from online retailers, especially if you offer home delivery.
For other seasonal tips, feel free to follow our blog. We deliver fresh tips to your inbox weekly.