One of the big concerns many eyecare practices have when it comes to switching to new EHR software is that it will be time consuming. Implementation will be time consuming and learning the new system will come with it's own set of challenges that will also take time, and ultimately you might feel the new system isn't saving you time at all. These fears are probably heightened if you're coming from a paper practice.
But, once you and your team are able to overcome some of the initial hurdles of a software switch, the time savings that the new tools and features could save you patient after patient will have big benefits for your practice. Let's look at some time saving features to look out for in your hunt for a more efficient EHR software.
6 Time Saving EHR System Features to Look For
Claim Management from Within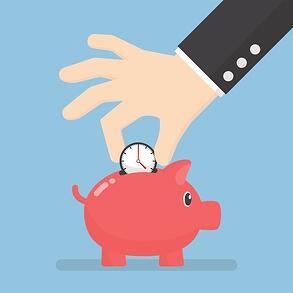 If you're a paper practice, chances are you've been submitting claims via paper, through a clearinghouse, or by visiting individual payer websites. Out of those options a clearinghouse solution is going to be the mot efficient. But, if you have a practice management and EHR system in your practice, having a claims management tool built into the solution will help keep claim filing within your workflow so you can conveniently submit claims electronically, view eligibility and authorization, manage ERAs, track claims, and view reporting all without leaving the system.
Fast Exam Documentation
Being able to quickly document an exam is a big concern for many ODs when shopping for new software. Many software complaints derive from too many clicks to get through a patient exam. Look for configurable settings, clinical decision support, and a clean user interface that will help you easily input data quickly during a patient visit.
Embedded Solutions
Every time you have to switch between different software tools it's time consuming. Remembering different log ins, learning new interfaces, and managing multiple accounts adds up. The more tools built right into your practice management and EHR, things like frame catalogs, patient education, patient recall, code verification, and ePrescribing will save you and your team time from bouncing between tools.
Advanced Reporting for MIPS
Advanced reporting tools within your practice management and EHR solution is an important feature to have to help you better organize your data and make better business decisions. But, with government programs like MIPS starting to take effect, having an electronic solution that helps you easily manage, attest, and report on MIPS measures will also save you time and money from penalties.
Easier Handoffs
One of the harder parts of many eyecare practice workflows is managing patient handoffs between team members. Handoffs are an important part of the patient experience and can waste a patient's time if they aren't communicated effectively. Having your entire team working off the same system throughout the day with each patient makes it easier to communicate through instant messaging tools, notifications, and patient tracking. A system with built in product ordering will make it easy for your opticians to place and track orders all from within the same system that the rest of your team uses.
IT Responsibilities
With client-server software solutions you're required to take on the role of IT manager yourself, or hire it out to a consultant. Maintaining and securing a server on site isn't cheap, or easy. With a cloud-based practice management and EHR solution you can free yourself from the hassles of IT management because your software provider takes care of all that for you. Updates within a cloud-based system happen seamlessly (usually overnight), without you having to spend late nights or weekends updating each computer in order to get the latest system features.
Thinking about finding and EHR that will save your practice more time? Check out our guide for making a seamless software switch.