For the past two years, the unemployment rate in the US has stayed mostly below 4%. While this is the lowest it has been for the past 30 years, it can make hiring difficult for your practice.
There are more healthcare jobs being created due to economic and business growth. If there are plenty of jobs, that might mean that the most qualified applicants find their positions more quickly and there could be a surplus of unqualified applicants. It could also mean that your practice will have to offer more competitive salaries, benefits, and perks.
Let's explore what you need to know and how you can prepare yourself.
How Does Unemployment Rate Influence Eyecare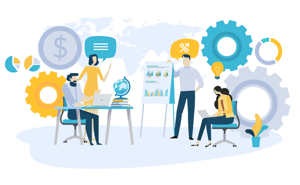 Retention
Losing your best team members to the competition can happen at anytime, but it's especially risky when unemployment rates are low. Prepare yourself for aggressive poaching, because you don't want to lose your most talented workers at this time.
Try to delight your staff, especially when they're meeting or exceeding their goals. Offer up extra Paid Time Off (PTO) days, host a celebratory lunch, or give out giftcards for employees of the month. Although this can increase your expenses, having to hire a less-qualified candidate to fill their position is a greater detriment to your practice.
Hiring
If you do find yourself needing to enter the world of hiring, do some research on what your competitors are offering for similar positions. Then, get creative. Sweeten the deal with perks, career growth opportunities, compensation for online courses, or something else that shows you invest in your team. Not only will you attract serious candidates this way, but your practice will stand out in their job search. However, we recommend that you try to automate any processes or services that you can first.
Automation
Take a good look at the positions you're hiring for--can any of their responsibilities be automated or outsourced? Many companies are looking to automate the administrative tasks so that they can hire people for their creative thinking abilities. Not only does this open up your search to candidates without optometry-specific experience, but it also reduces your exam times.
Utilize software with automatic patient recall, intuitive inventory management, and ePrescribing. Lean on a team of insurance experts to handle your billing offsite instead of looking for an experienced biller to hire full time. Anything that reduces the amount of calls or outreach your practice needs to make will help your business and free up time for your staff.
---
We have more tips for staff management in our free ebook. Download and read it here.