It's that time of year again! Vision Expo East is holding its annual New York City Expo next week. Hundreds of vendors and exhibitors will be present ready to promote, sell, and educate thousands of optical professionals from around the nation.
If this is going to be your first time attending Vision Expo East, or if you need help improving your ROI at the show, we are here to get you started! Most people don't realize that if you don't get you and your team prepared for what needs to be accomplished during Vision Expo, you could end up wasting valuable time. Use these tips and strategies to get the most out of your Vision Expo East trip!
Prepare Your Team to Make the Most out of
Vision Expo East

Know Your Plan of Attack
If you are looking to improve your ROI this year at VEE the most important thing to prepare is a solid plan of attack for not only yourself, but your entire team. The Javits Center is big making it easy to get overwhelmed, and will be filled with around 600 exhibitors, so you can see why a plan is necessary. The Vision Expo website includes a floor map and list of exhibitors, and from there you can create your list of "must-see" and "want-to-see" exhibitors.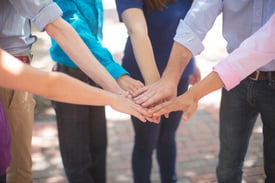 If you have multiple people representing your practice, it is smart to divide and conquer. Your optician can go check out the frames, while an office manager can head over to the practice management solutions, and then the OD can get information in instruments and devices. Reconvene with your team and explain to the others what you found interesting, and what you didn't. This strategy of planning out your attack will end up saving your team an incredible amount of time, and ultimately increase your overall ROI through efficiency. Make sure that going into the show that everyone on your team knows what they should be looking out for and questions to be asking.
If your team already knows they are interested in a certain company or product going into the show, it would be beneficial to reach out to them beforehand and schedule an appointment. The show floor is generally busy at all times, so this could help you avoid waiting in long lines to speak to someone.
After each team member has a day to check out their assignments you can all get back together and discuss your favorites and the things that you want to re-visit as a team the next day.
Have the Right App's
Having the right apps can make a big the difference. With so many booths and competing products, it's hard to visit them all in your short visit to New York. That's why you need the Vision Expo East app, and with it you'll be able to plan your schedule, navigate the show floor with interactive maps, download education schedules, and find contact information on exhibitors to schedule appointments.
Asana is another app that will make your life easier, especially if you're with a team. Asana creates shared to-do lists, assigns tasks, and prioritizes items all to help get you and your team members on the same page. The shared feature allows everyone to communicate and calculate together. With changes occurring in real-time you can really utilize this app as a tool for creating better teamwork while at the show.
Vision Expo partnered with Uber this year for a promotional free first ride valued up to $25 for anyone taking their first Uber ride. How does it work? Using Uber's free app, you can request a pickup and a car driven by a professional driver will show up within minutes. Your credit card is billed directly for your trip and there's no need to tip, so you don't need to worry about carrying cash.
Educate Yourself
The best way to make the correct purchases this year at VEE is by educating yourself on the products and services that you're looking to implement in your practice. The continuing education programs happening this year at Vision Expo features many innovative speakers, and more likely than not there is an educational program covering the technology you are planning on purchasing. A total of 330+ hours of education, developed by the conference advisory board, has been prepared for exhibitors in 2015. Most programs have topics surrounding 3 core competencies - disease diagnosis and treatment, clinical application of products, and healthy business solutions. The list of educational shows on the Vision Expo website will give you an idea of how things are organized and what topics are covered. If the product you need at VEE isn't being discussed, try to do some research on your own beforehand and educate yourself on which brand is the smart choice and right fit for your practice.
Find the Right Deal
Everybody likes a good deal. A huge perk of Vision Expo is the fact that many of the exhibiting companies will have special show prices and deals for those attendees looking to make purchases at the actual show. These deals are an easy and simple way to increase you ROI and should be taken advantage of! Vendors and exhibiting companies will also have raffles and giveaways throughout the weekend. So even if you're not in the market for anything, still check out the booths to win free items and learn about possible future purchases. Free frames, iPads, and even cash prizes are all part of the Vision Expo weekend.
Follow Up
After you have done your research and education, it's time to follow up and really show your interest in the products you like. This is important because during the day many booths are completely filled with people, and you might not have had the chance to preview the full product or talk with the right people. Following up can put you first in line when you're ready to make the actual purchase. It also gives you a chance to check out the product, and its competitors one last time before making a final decision on a purchase.
Get the most out of your Vision Expo weekend purchases by using the blog to learn more!