Especially with social distancing in effect, it's easy to feel slightly isolated while dealing with the closure of your practice, demotivation from staff, and uncertainty of your patients. All optometrists are feeling unsure about how to progress forward without the opportunity to meet and share advice. That's why we think you should check out the digital webinars being offered surrounding profitability, adapting to change, and organizing for the year ahead.
Our partner and friend, EDGEPro from GPN Technologies, offers helpful webinars regularly through their channel. We wanted to highlight the most recent COVID-19 related info sessions that can help get your practice reopened and on track.
Webinars For Reopening and Sustaining Your Eyecare Practice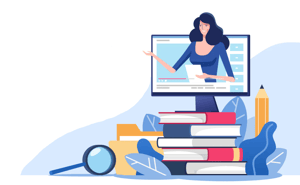 These recent webinar recordings can hopefully inspire and help you for the next month of unprecedented change.
Ready, Set Re-Open: Prioritize Your Schedule for Safety & Success


When you return to practice in your eye care clinic, you will need to handle new priorities and guidelines in your scheduling and staffing. You can meet the challenge of delivering full scope primary eye care services, but you will need to be thoughtful and well-prepared to do it well. Examine scheduling options and choose a template that matches your business needs; Define staffing requirements for your new schedule; Assess new metrics and statistical goals to be sure you are on track.

Digging Out: Financially recovering from COVID-19


Dr. Mick Kling discusses the dos and don'ts for financial recovery from COVID-19. "In order to fully recover, it's critical that we create an effective financial recovery strategy that includes determining our working capital, our cash burn rate and develop a 90-Day Recovery Budget to ensure a full financial recovery." -Mick Kling, OD

NEXT STEPS: Session 4. Practice Culture Shift


Join Dr. Scott Jens as he chats with ODs Lorie Lippiatt, Brian Kane, Walter Choate and Jennifer Stewart about how they're preparing staff to see patients safely when they resume routine care and re-open.
---
Subscribe to the blog for more tips on how to run your practice.