Perfecting your social media game can prove to be not only challenging, but time consuming. We know that your practice keeps you extremely busy and that social media can sometimes get pushed to the very bottom of your to-do list.
That is why we want to share with you some strategies that will help you master the craft of creating great posts that will get your followers more involved with your practice.
Before we break down the specific requirements for each different platform, it is helpful to start with some general guidelines that will help your social media presence overall. Keep reading to see what they are!
3 Social Media Platforms to Promote your Optometry Practice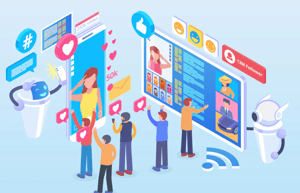 Let's start with a few overall guidelines that apply for any social media posts you're creating:
Sharing the same content multiple times can increase page ranking and reach new followers (if you are re-posting weeks or months apart).
Sharing non-promotional company information helps your practice seem more transparent and builds a community with your followers.
Pay attention to your profile pictures and bios, they provide strong 1st impressions for your practice.
Use one voice and tone across all of your platforms to keep your branding aligned.
Use tools like bit.ly to shorten your links.
Include gifs and images in your posts when you can to boost engagement.
Hashtag research is useful to get your practice more publicity
Facebook
Facebook serves as a great platform for interacting with your patients in a non-intrusive way. It is important to always keep your tone positive and engage with your patients through comments. While you'll want to provide great information on Facebook, don't give it all away, you want to entice your followers to click through and interact with your website and social community.
The 80 plus word count might seem high (compared to 2 years ago when experts were saying to keep posts under 40 characters), but longer posts have been found to create 2 times the amount of engagement. Some additional tips for increasing engagement on this platform is to use hashtags, which generate 60% more interactions, and to ask your followers questions, which increases interactions by 23%.
Twitter
The best advice we can give you when creating tweets is to try and always include an image. Tweets with images get 150% more retweets, 89% more favorites, and 18% more clicks. It is also important to provide a clear CTA in your message that tells your followers how you would like them to interact.
Twitter provides a great platform for sharing quick quotes and facts, and for asking engaging questions. Because of its real-time updates and trending hashtags, Twitter provides the opportunity for you to create initial leads and new customers. While trending hashtags (if relevant) help create leads, don't go hashtag crazy, a general rule of thumb is to never use more than 2 hashtags in a tweet.
Instagram
The great thing about Instagram is that there are really no restrictions when it comes to the best times to post and number of posts per day because of their feed algorithm. Instagram is a great way to highlight all of the unique frames you keep stocked in your dispensary.
Find a consistent editing style (use the same filters or colors in photos) and use the rule of 3rds (keep the subject of your photo in only 2/3rds). Your dispensary can also take advantage of the location tags on this platform to remind your followers exactly where you are located. Remember to be aware of hashtags on this platform as well, you can place them in the comments so that they don't distract from your captions.
---
Social media growth can be part of your practice's larger 5 year plan. See what we're talking about below.
Editor's Note: This post was originally published on May 2015. It has been updated for relevance and richness of content on October 2019.