We all know that customer satisfaction is essential to the success of your practice. Have you ever wanted to get inside their minds to find out exactly what they need when looking for new frames? Now you can! We created a survey to better understand their shopping behavior so that you can stay one step ahead of them to provide great optical ordering customer service!
Most patients find it fun to change things up with a new pair of glasses, and they remain very brand loyal. Customers prefer going to the same eyecare practice, so it is very important to keep them satisfied and coming back for more.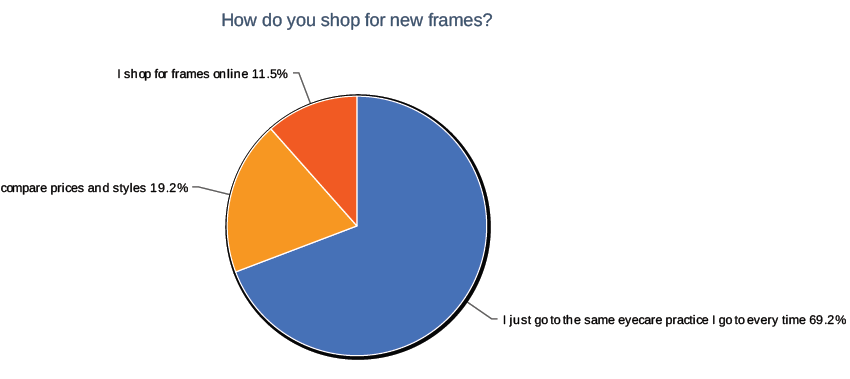 Unfortunately, there are also patients who find getting new glasses to be a stressful process and these are some of their concerns, ranked from most important to least.
Cost

Choosing the right frames

Finding time to pick frames

Amount of time it takes to get new frames in after ordering

Pressure from the salesperson
Getting new glasses can get expensive, and your patients feel the pinch in their wallet! A great way to start is by understanding your patient's budget and making suggestions from there. It would also be helpful to spend more time to explain the value and quality of the lenses they are purchasing, so that they know what they are paying for. You could even go the extra mile to learn more about their insurance coverage and work with their plan.
Another huge concern about getting frames is finding the time for the process. First they have to find time to make the selection, and then wait for them to come in from the lab before picking them up. Again, working with what they have in terms of budget can help quicken the process by narrowing the selection. And by ordering through VisionWeb, their glasses can come in 1-2 days faster than orders placed via phone or fax! That's saving your patients time in two ways!
Lastly, if your patients feel pressured into getting frames because of a pushy salesperson, your practice might be guilty of bad customer service. Though our survey shows that most patients remain brand-loyal, a considerable amount of patients shop around to compare prices, styles, and even the level of customer service. We understand that you might be eager to close a sale, but aggressive selling is probably not the way to go!
And now, for the terrifying part: choosing the right frames! We all want to look good in our glasses, so what matters most to your patients? (Ranked from most important to least)
Shape and size

Color and design

Material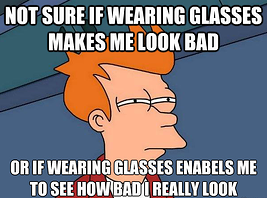 Making suggestions on your patient's physical appearance can be tricky. Instead of making personal opinions, it could be helpful to place different guides on face shapes and skin tones between frame racks as they try different frames. People who took our survey also found magazines helpful when researching frames and many eyecare practices provide frames to their employees who serve as in-store representation.
Now that you've caught a glimpse of what your patients look for in new glasses, you'll be well prepared when the next one comes in. It's all about making your practice a comfortable environment where patients can enjoy something they have to do. And of course, VisionWeb will be there to make the online ophthalmic product ordering process fast and efficient, which keeps you and your patients happy!