Bringing in new talent into your optometric practice is exciting. With new hires comes a boost in creativity, productivity, and positivity. It also comes with the challenge of training the individual quickly and efficiently enough that you can return to managing your practice and seeing patients.
Below are a few optical resources your practice can use to train any new employee in your eyecare practice.
5 Optical Resources for Training New Employees
Online Learning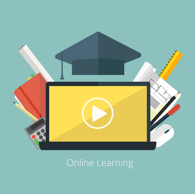 You can get your new hire up to speed quickly using online learning courses that are available to help them get up to speed on their job function at their own time. Whether it's learning about digital marketing techniques or learning how to use a cloud-based practice management solution effectively, there are dozens of reputable resources online to help your new hires get up to speed.
Blogs, training videos, eBooks, and on-demand sessions are all optometry learning resources to help get any new hire trained on a variety of topics.
Office Manual
Giving new hires access to your practice's office manual will give them important information like practice objectives, practice mission statement, standardized processes, and practice procedures. By documenting the job function, processes, and procedures you can help shorten the learning curve for new hires and reduce confusion, reduce noncompliance, and increase confidence.
Role-play
A unique way to onboard new hires into your practice workflow is to use a few role-playing activities. Role-playing helps the new hire develop the communication skills required to effectively interact with your patients on a day-to-day basis and helps them understand why what they're doing is important.
Terminology
Many of the recent hires in your practice may be new to the eyecare industry. To help get your new hires more familiar with the industry and their job requirements, assist in their learning and understanding of important eyecare terminology. The understanding of the terminology can result in better questions and a deeper understanding of their job function.
Download this ebook on relevant terms your new hires will need to understand to succeed in the new role.
Goals
Setting goals for your new employees will help drive engagement by providing focus to progress new hire training. When creating onboarding goals for new hires, ensure you:
Align the goal with a business or practice objective
Develop a plan on how to meet the goal
Provide feedback
Assign onboarding milestones
For tips on goal setting, review this post on setting staff and team goals in your eyecare practice.
If your new employee is taking on a billing role in your practice, help them understand the common reasons behind claim filing denials by downloading this eBook.