I would like to bet that if I asked some of the most successful practice owners what their most valuable practice asset is, they'd tell me that it's their people.
Your staff can make or break your patient's experience and the daily workload in your office. But, we also know that finding and hanging on to your practice's top performers can be a challenge.
As part of our Game Changing Moves for Your Optical Practice Series, we want to focus on some of the best advice when it comes to developing the team in your office.
How a Strong Team Can Help Your Optical Practice Grow
Only the Best Team Members Survive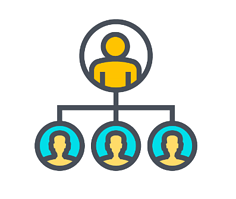 As we said before, the people in your practice can make or break your business. So if you have team members that are slowing you down or not working up to the standards you and your patients hold for your practice, it might be time to let them go. In the long run, you're going to be better off taking the time to find the right fit and the right people for each of the positions in your practice rather than settling for someone just gets the job done.
We've created resources on building the right team and how to keep your most loyal and valuable employees happy here:
Partner with the Right Person
Sometimes, one of the best moves you can make for your practice is finding the perfect OD to partner with. But making the decision to partner is a big choice and a big commitment. You need to make sure you find the right person before diving in. Here's a quick list of things to keep your mind open to when searching for the right business partner.
Know your goals. What you're looking to accomplish in your practice?
Be open to new ideas and new perspectives. How will a partner make your practice stand out from other local offices?
Consider your office culture. Is the potential partner a good cultural fit for your practice? Do they fit in well with both you and the rest of your staff?
Leverage new skill sets. Does the potential partner bring in a diverse set of skills? How can your different skill sets work together to offer new services and create a valuable business?
Hire an Office Manager
If you're both the manager of your practice and head OD, you're probably trying to juggle too much and some important things could be slipping through the cracks. Hiring an office manager allows you to focus all your attention on patient care, while your new office manager can be your go to for things like staff management, scheduling, claims management, reporting, and all other business aspects that keep your day-to-day processes moving smoothly.
If you've been surviving without an office manager, but have seen a lot of growth lately and are looking to expand, we've put together a list of things you should be looking for when hiring an office manager for your practice.
---
All our staff management tips are in the following free ebook.
Originally published in August 2016