Customer service can be everything for an optical dispensary. According to this report, 86% of buyers will pay more for a better customer experience. With all the challenges that threaten the success of an optometry practice today, suboptimal customer service should not be the reason your patients leave you.
Heading into 2020, step back from your optometry practice and look at it as your patient would so you can monitor your staff's customer service habits. In this post, we cover some of the bad customer service habits your staff may be making and offer solutions to providing a better patient experience.

Is Your Optometry Staff Making These Customer Service Errors?
Being Distracted from the Patient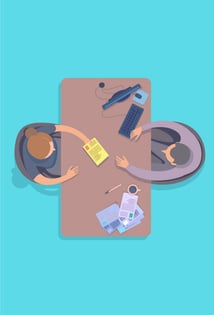 Distractions are everywhere, but when patients feel like your staff isn't giving them their full attention, then your patients lose trust in your practice's ability to meet their needs. Whether the patient is describing their chief complaint or just browsing your frame board, it's important that your staff can shift focus to the customer in front of them.
When you monitor your staff for customer service effectiveness, see if they are giving into distractions by:
Eating in front of patients
Turning away from patients to work on administrative tasks
Using their personal phones
If you see distractions like these affecting your staff's ability to focus on enhancing patient care, you need to put policies in place to reduce these distractions.
Not Leading with Value
Price points without context can chase away sales. With online retailers competing with your practice by offering low-cost frames and contacts, your staff needs to lead their sales approach with value-based communication to highlight how the recommended product solves the patient's vision needs. When you take the time to listen to your patient's needs, you can begin to build a value-based pitch on the eyecare products that best meet the needs of your patients.
Not Making Connections
An important part of effective customer service is making personal connections. Once connections are made, trust is built. A strong connection can help you identify the frame and lens type that meets your patient's needs. When your staff can make a connection with the patient, the patient will not only trust their recommendation, but they will also be more likely to return to your practice in the future.
Not Knowing the Product
When your patients come to you and your staff for their eyecare needs, they want to be led by someone who is knowledgeable about the products available so they can make an educated decision that work for their needs.
While it's impossible to know everything in the eyecare industry. It's important that when a patient asks a difficult question, your staff has basic knowledge that they can share. Always look for ways to help improve your staff's knowledge of the products you sell, services you offer, and the latest industry trends.
---
Does your practice need to optimize your workflow to increase practice efficiency and focus on the patient experience? Download this ebook to see how.
Editor's Note: This post was originally published on December 2016. It has been updated for relevance and richness of content on January 2020.