It happens in every eyecare practice. Patients come in claiming they've never had to pay for a contact lens exam or evaluation before and that they can easily find another OD in the area who won't charge for it. It can be initially infuriating, but we have a few tips for addressing these patients appropriately.
How do you deal with these patients to help them better understand the extra costs of a contact lens evaluation? If you have proven successful tips we would love to her about them in the comments.
How to Defend Your Contact Lens Fee
Use an Info Sheet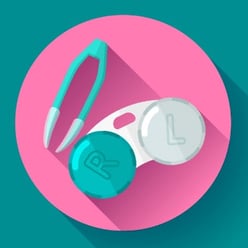 Having an info sheet on hand for patients who don't understand the need for a contact lens evaluation fee could be a simple way to help them better see what's included in the evaluation. It's likely they are unaware of the extra time, resources, and expertise that are put into the evaluation and having a consistent and ready response can make it easier.
Without an explanation a patient likely doesn't realize things like the cost of more chair time, additional testing, trial lenses, new technology, positive and negative effects of contacts on eye health, and additional knowledge and decision making by the doctor.
Quote Fees Ahead of Appointments
One way to stay ahead of any miscommunication and confrontation on costs it to quote patients ahead of their appointment so they know what is exactly covered by insurance and what isn't. This will give them time to ask questions and better understand the fees outside of your waiting room where they could cause a scene about costs in front
of other patients.
The Words "Evaluation" or "Exam"
Sometimes just the way you decide to word things can put people in a tizzy. For example, contact lens evaluation could be accepted better than a fitting or a fee. Calling it an evaluation implies that the patient will be receiving additional care included as a part of the evaluation. Another idea is to call it a contact lens exam if evaluation isn't resonating with patients.
Make it Non-Negotiable
You know better than we do that patients are going to complain about this type of thing. Be strong and confident in your practice, expertise, and value when dealing with tough patients. If you budge once, they are going to expect it again in the future and they could tell their friends they got certain discounts or waived fees that you'll end up having to explain or take care of. It's a non-negotiable fee when getting contact lenses.
---
Your dispensary could be making more money. Here's our free 4 week crash course to help you.
Editor's Note: This post was originally published on November 3, 2016. It has been updated for relevance and richness of content on September 17, 2019.