Ordering contact lenses can be a liberating experience for your patients. For your teenage patients, ordering contact lenses is a rite of passage. And, for your athletic patients, contact lenses will give them the ability to compete without the fear of breaking their glasses. However, because a contact lens fitting is a little different than a comprehensive eye exam, your patient workflow may lose pace as your staff works to record the proper documentation.
In this recently recorded webinar, Dr. Ian Lane demonstrated how you use an EHR software solution to enhance patient care during a contact lens fitting by streamlining the documentation process.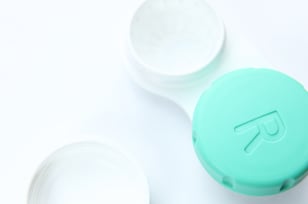 3 Ways EHR Software Enhances Patient Care Through Improved Documentation
Eliminate Repetitive Data Entry
Manual data entry practices are repetitive and can slow down your patient workflow. For an optometric practice, your mission is to push patients through your workflow as quickly as you can without delivering mediocre patient care.
When taking a patient through the patient workflow for a contact lens fitting, using an EHR system that updates your patient's refraction data into the contact lens prescription trial fitting fields will help reduce errors and speed your patient through the workflow.
Maximize Communication
A lot of information is recorded when a patient visits your office. As your patient goes through the workflow, your staff obtains, records, and shares patient information with other staff members to provide proper care. However, by the time the information is communicated to the OD, it may be downplayed, improperly recorded, or missing from the records. This is why communication in your eyecare practice is so important.
Using an EHR software solution allows you to document your patient's information in real-time. Your staff members can then pull updated information from the EHR to view the patient's contact lens information, allergies, and other data from the patient's electronic health record.
Distribute Electronic Patient Education Material
By the time your patients have their trial contact lenses in their eyes and can comfortably see without bulky frames, they may have tuned out your instructions on how to care for their contact lenses.
Using an EHR solution, you can send your patients education material to the patient portal for them to review at their own convenience, maybe when the excitement of new contacts lenses has dissipated a bit.
Fitting a patient for contact lenses is a process entirely different from the more common comprehensive eye exam. Due to the exam and process differences, documentation practices may slow down your patient workflow. However, by using an EHR software solution, you may be able to enhance patient care and accelerate the patient workflow by using the solution to eliminate data entry practices, maximize communication, and distribute electronic patient education materials.
For more on how to enhance patient care during a contact lens fitting with EHR software, watch the replay of the webinar here.