Businesses are always trying to find a competitive edge to stay ahead of the curve. In your practice this "edge" might be easier to accomplish than you think. A strong, planned, and creative social media presence is one of the most efficient forms of marketing available today, for any budget. We know it can be intimidating and uncomfortable using social media to engage, communicate, and secure potential and current customers, especially in healthcare, but it can really improve and change your practice for the better.
These 5 tips will help you implement social media best practices, and understand the benefits to developing and evolving your eyecare practice's social media presence!
5 Tips for Kickstarting Your Practice's Social Media Marketing Plan in 2015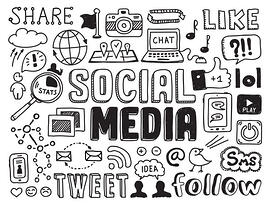 1. A Focused Approach
When beginning the process of integrating social media into your marketing efforts, it's always good to take a step back and analyze your current situation as a business. Take some time to determine your strengths and weaknesses, the competition in your industry and more specifically in your local area, and the technological capacity of your team. This will help you draft and create a focused communications strategy that identifies what your practice hopes to accomplish online, and how to get there.
Too many businesses, especially smaller ones with fewer employees and resources, dive into social media because they think they "have" to and don't set any clear goals or objectives. Learn who, what, when, where, why, and how to market your business so you can have a clear picture of how you are going to improve your strategy in the coming days, months, and years. Creating a focused plan will help your content stay relevant and will get your business heading in the right direction!
2. Find the Right Target Audience
Another tip to improving your social media presence is considering who your audience is and why you want to engage them. Your audience's attitudes, behaviors, and expectations can change rapidly, and as a business you're expected to be one step ahead with your content. When businesses attempt to throw content out randomly it quickly becomes ineffective. Developing an understanding of who your audience is, where they are online, and what needs you can fulfill for them can lead to a stronger online presence.
The advantages of marketing to the right audience online are astronomical! People trust and use the Internet more and more each day, so social media can be seen as a medium that nearly everyone in the world now uses. While social media marketing is nearly always free, Facebook advertising has developed algorithms that will post to specific audiences for you (if you're willing to pay for it). You can target audiences through specifications such as by region, friends of followers, or people who have visited your website. This efficiency provides daily opportunities for businesses to target potential customers who will listen, and hopefully engage with your content. Just make sure your efforts are efficient and not wasted on people who will not add to the value of your brand and business.
3. Don't Put All Your Eggs in One Basket
With so many different social media platforms online, it is tempting, and common, for businesses to sign up for as many platforms as possible without thinking of the required upkeep. At the other end of the spectrum, businesses also can limit themselves to only a single platform. Don't put all your eggs in one basket, but don't spread yourself too thin either. Start your social media presence by using one or two networks frequently, and move on to others if you see a need that isn't being met.
Quality over quantity is critical when using social media, so edit and edit again any posts for quality control before they go out. To decide which platform is your best option, first try to understand where your business sits in the social media space. Do you want a community presence? If so, Facebook is probably the right choice. If imagery is vital for your business, then Instagram or Pinterest are both viable options. If professional insight is how you best engage others, begin an active presence on LinkedIn. Just like customers, not every social media platform is right for your business. Depending on your practice's situation, there is a platform than can best suit you and your customer's needs.
4. Be Responsive and Accessible
There is no greater online sin than a social media profile that has questions, comments, and engagement that are not properly managed. If your online community engages and asks questions, answer them as promptly as possible, and most importantly, positively. If you need to wait to get the answer, let them know you will get back to them as soon as you can. 24 hours is like 2 weeks in the social media realm, so respond immediately!
Reach for loyalty, not millions. Aim to develop a relationship with a small number of loyal advocates so that the relationships can be maintained and flourish even with limited time and resources. Also, as a practice, the best way to kick start the conversation between you and your followers is a well thought out question for your audience. This will be the best way to get your customers engaged and thinking with your brand. Once you engage and start a conversation, you can cultivate meaningful relationships with customers in the social media community, which in turn leads to a more successful business!
5. Provide Consistent Value
Consistency in your social media strategy is important. Consistent value online will promote brand authenticity, and help keep your message on point, while inconsistency ignites confusion among your customers online. Inconsistency undermines the confidence customers have in your business and brand. Don't panic just yet. Being consistent across your media platforms isn't as difficult as you may think.
First, avoid syndicated messages across multiple platforms, as this will lead to a loss of sincerity behind the message. Why would someone follow you on a second platform if you post all the same content? All social networks are not the same, so avoid making the mistake of auto-posting without planning and preparing to keep the message consistent.
Second, your online social network brand name, colors, format, and tagline should all be consistent across your platforms. Using completely different designs and colors on different platforms will not generate positive branding effects, but only cause confusion and further damage the credibility of your brand. Everywhere your brand appears it should be clear, recognizable and consistent. Your ability to consistently represent your practice with value to the online world can be a major determinate of your practice's future success both online and offline.
What I have provided here is just food for thought. Each practice, business, and corporation has to find the right balance in their own social media presence depending on their unique situation. What all business leaders can take away from this is that social media is quickly becoming not only an inexpensive marketing and communications tool, but leading the way as "the" tool needed to stay current and relevant in today's market. Use these 5 tips to take back control of your social media and understand the benefits of correctly developing, planning, and engaging with different online platforms.
Stay subscribed to the blog to keep up with our latest tips!