Managing the retail side of your eyecare business is a big responsibility on your staff. From making sales to providing patients with detailed frame information to managing invoices and payments to bringing in inactive patients - your team does a lot! Make sure they are equipped with the right tools that will help them be more efficient on a daily basis and increase patient statisfaction in your dispensary.
Improve Your Retail Business with Help from a Practice Management Solution
Streamline Purchases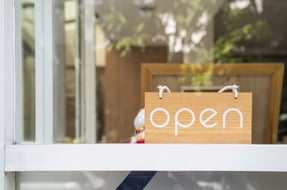 An online ordering integration with your practice management software is going to help you manage and track orders in your dispensary. Your staff will be able to better keep track of orders, and your patients will enjoy a faster turnaround on their products. With an integrated solution your staff won't have to leave your system to place their orders, and it makes it easier for them to quickly track orders online, and rest assured that the orders are more accurate with automatic error-checking features.
Frame Catalogs
On top of just an ordering solution, built in frame catalogs from Frames Data gets you frame information automatically updated into your system daily. Your staff will be able to stay more organized by building custom frame catalogs of the frames you currently carry in your inventory with access to helpful information like measurements and wholesale pricing. You can also use Frames Data Online to browse for products that aren't in your inventory to show frames to customers and see trending reports on the most popular frames.
Manage Invoices and Payments
A good practice management solution is going to help make your billing and check out routine easier too. Posting an Rx order to an invoice allows you to process invoices as patients check out. On top of creating invoices, you'll be able to follow up, process quotes, and record payments all within the system so your information is all in one place where you can easily find what you need.
Reduce Write Offs
Your entire billing workflow will benefit, including your claims and reimbursements. Discount and returns/exchanges give you the ability to improve aging accuracy and reduce write offs. You can also track promotions and discounts so you don't bill a wrong amount or allocate a discount to the insurance payer instead of the patient.
Bring Back Inactive Patients
One of the best ways to boost retail sales in your practice is by bringing in more patients through your doors. Automated patient recall reminders allow you to communicate with your inactive patients without adding an additional task to your staff's workload. You can easily customize your recall messages to reach your customers via text or email until an appointment is booked.
Check out Uprise, a practice management and EHR software that will help make day to day jobs easier in your dispensary!