Optical social media is something that not all practices are taking advantage of, especially as a marketing tool. It is practically free, can reach almost all of your current customers, and can help you acquire new patients. Unfortunately, many ODs do not understand the impact of social media and tend to disregard it as less useful than it really is; they neglect their pages and their followers, which could have a negative impact on their practice. The bottom line is: your patients deserve better than this.
Optical Social Media is Less Effective When You Are…
1) Unapproachable. Social media is meant to facilitate a meaningful connection between people. When your practice creates a profile, make sure you are reaching out to patients and showing that your page is an available, open channel of communication, and that there is an actual person behind the title on your page.
2) Boring. No one wants to follow a practice that is only ever posting boring, information-heavy to self-promoting things. Occasionally posting something irrelevant and just plain funny is okay. You just need to make sure that everything you post will be well-received by your patients. Keep it appropriate, yet entertaining.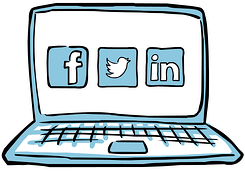 3) Nonresponsive. Your customers do not appreciate when you ignore them—even If it is unintentional on your part. If you never want to check your Twitter, then don't have one. Leaving your patients feeling neglected and unappreciated is one of the biggest mistakes you can make on social media. Just because you can have a profile on every social media site doesn't mean you should. If a Pinterest, Instagram, or BlogSpot doesn't make sense for your company to have, don't waste your time trying to maintain one; instead try focusing your efforts on one or two major one(s), like Twitter or Facebook. The quality of what you post will be better, and you will be able to respond to your followers much easier.
4) Overwhelming. Over-posting. Yes, that cat picture is adorable, and yes, that e-card made everyone in the office laugh through lunch, but that does not mean it has to go to the social media page. When you are constantly posting things, they lose their impact and value. Your patients are using social media to communicate with a lot of people and businesses and when you are the only thing they see, they have a tendency to get frustrated and unfollow-- which is not what you want at all!
5) An Observer. Here is the deal: if you make an account, never post, and only ever comment on and view on other people's pages, it is creepy. You have to post original material regularly, so your followers know you are real, live, and interested in what is going on in the world. Don't just observe, participate.
6) Defensive. If you mess up (or even if you do not), and someone points it out on social media, own up to it, apologize, and move on. Getting defensive about it is not worth the negative image it is going to generate—even if you don't particularly agree with the statements being made. Sometimes a public statement is appropriate, but then continue the conversation offline to resolve the issue.
Not guilty of any of these? Great job, keep up the good work! And for everyone else: you've got the tools of how to be successful, now it is just a matter of applying them to your own practice!
Follow us on Twitter for more posts and tips for your optical social media!