We spent some time talking about the best ways to organize your work station in the optical dispensary or ways to apply the Marie Kondo method. When adjusting frames and working with small tools, having an organized work space is important to complete an efficient job.
This time around, we want to talk about organization at your desk - whether it's in the front of house, or your personal office. It's easy for work spaces to get cluttered, but sometimes that clutter can hinder efficiency or result in unpaid claims. Here are a few strategies for assessing your work space and getting a fresh start.
7 Ways to Improve Your Eyecare Practice Work Space
De-Clutter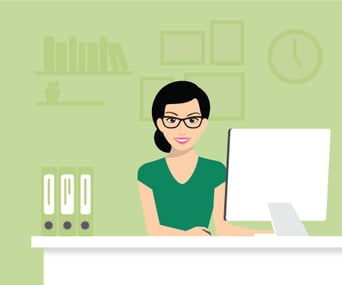 One of the easiest steps to a more organized work space is de-cluttering what is in front of you. Whether it's a file folder that is too full, an overflowing pen cup, or too many knick-knacks surrounding your space it's time to get rid of the things you don't need daily access to. Anything that's collecting dust on your desk should be gone!
Define Your Layout
Defining the layout of the items you need within reach on a daily basis is important. What items do you need within close proximity the most and least often? At the front desk, this is especially important as patients are going to be within eyesight of how organized you are behind the desk. A disorganized work space could give patients the wrong impression of your practice.
Go Easy on Sticky Notes
Sticky notes are best used for important short term reminders. Having sticky notes outlining every inch of your computer screen or desk space is not efficient. If you need a place to keep important notes and reminders on a daily basis, dedicate a specific notebook. That way you can keep it in close proximity to quickly access your notes when they are needed.
Prioritize Your Work Zone
Prioritizing your work zone will help you keep only relevant and active projects and information on your desk. One way to look at this is to have a computer work zone and a non-computer work zone. You'll likely spend more time at the computer station, knocking off most of your to-do list. But, your non-computer work station should be free of monitors and cords where you go to do paperwork, scan documents, stamp envelopes, and other various office tasks. Keeping only relevant items at each location will help you stay de-cluttered and keeps the relevant work top of mind.
Embrace Empty Space
Having empty, paper free space is a good thing. Imagine your desk like a website. When you visit a website it's often easiest to navigate and understand the page when the content flows logically and there is ample spacing between different parts of the site, paragraphs of text, and images. You should embrace that same methodology of empty space at your desk.
Review Your Filing System
Paper files can take up a lot of space in an eyecare practice. It's easy to get behind on your work and let papers sit out for long periods of time. This adds to the clutter and can be hard to keep up with from a productivity stand point. Paper charts require a lot of manual work that could be avoided by using electronic health records. Using a practice management and EHR solution will allow you to get rid of paper charting in your office. All the patient records will be accessible from your computer system and you'll be able to search for information faster, compile data more efficiently, and patient information will be prone to fewer errors.
Organize Your Desktop Screen
When we talk about organizing your desk space, one thing you might not think about is your computer itself. I don't know about you, but I have the bad habit of saving every file to my desktop - which gets things cluttered on my wallpaper really fast. If you make a habit of creating a folder structure and keeping up with it, your files will be much easier to manage and search on a daily basis. Cleaning off your desktop once a month probably means you either dump old files into the trash or move them to a miscellaneous folder. A desktop cluttered with icons can hurt your productivity as much as a desk covered in papers!
---
Want to get rid of your paper files with a cloud-based practice management and EHR system? Consider Uprise.
Editor's Note: This post was originally published in April 2017. It has been updated for relevance and richness of content in November 2019.