Does your eyecare practice have employee personal eyewear policies? Discounts are very popular among many eyecare practices, but if you do not have a policy in place, you might want to start implementing one.
Our friends at the Optical Journal are here to help explain the importance of these policies and provide ideas they compiled from several different practices.
Personal frames and lenses are one of the biggest perks of the eyecare professional. It is also important and beneficial for your staff to try and showcase the latest products so that they can better sell them. However, there is a chance your staff could abuse the system if you don't have clear guidelines. Let's see how to navigate that.
What are your employee personal eyewear policies?
Problems you might encounter if you don't have a policy in place:
Staff buys glasses at discount and resells them on sites such as eBay or Facebook Marketplace for cash.
Front office staff has better connections for discounted products and may not be fair to back office staff.
Lack of policy makes it easy to steal or 'pay later' and you have no recourse if no written policy is in place.
Friends and family can take up a lot of time with little to no profit.
Tracking or policing can be a challenge.
Employees start ordering from rep (taking advantage of rep) for both friends and family. You are paying taxes, shipping, fabrication, rent, and accounting.
Here are some policies from various eyecare professional offices taken from various friends and forums such as OptiBoard, Luxury Eyewear Forum, and ODs on Facebook:
Decide what frames and lenses you want your staff to wear, then buy it for them. Encourage the staff to wear only the sunglasses and frames you want to promote.
The glasses the staff wears are more important than the glasses on display boards--purchase them just like you would uniforms. It is all part of the cost of goods.
Give employees glasses at wholesale cost plus a small percentage
Offer 2 free pairs per year. The optical shop will pay for any two frames and lenses. There are no exclusions, as long as it is a line you carry and any lens(es) that are available from the lab to order
Certain labs invoice at cost and take a certain % off our total at the end of the month. For employees & family, use a lab that takes the % off on the invoice to keep costs down for those that are actually paying
Employees get 1 clear and 1 sun annually. Anything they negotiate outside of those 2 with any reps, they can purchase
Outside of the "free" eyewear, they can purchase anything else they'd like at wholesale
Procure free lens vouchers and discounted frames for all the techs and front desk staff. They are the first people to interact with potential eyeglass customers when people arrive in the office and are being worked up for their exams. The front desk can share their reviews with the patients.
One pair per year, all employees, medical and optical. Family is done at 50% off retail
2 pair glasses OR contact lenses per year at 50 percent off. No discounts for family other than the "20 percent insurance discount" to patients
Have employees pay in full cash in order to receive a special discount
Purchase a POS system to keep track and only give spouse or children free products.
Every employee should have a form that they fill out stating exactly what they are ordering. Before the order is placed, it must be approved by an office manager. Once the glasses are received the manager will deliver them to the employee and pay at the time of delivery. The invoice and also the approval form should be placed in the employee file so that it can be monitored.
All sales reps should be aware of the policy so that people are not ordering anything behind your back. Even if the reps are giving stuff away to your employees for FREE, makes sure there's paperwork.
One free pair up to $300 cost of frame and lenses per year and cost for any others for staff. Immediate family members get 30% off.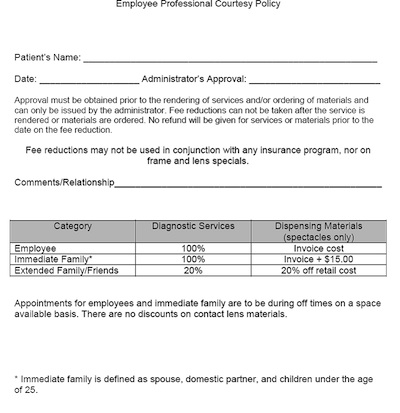 ---
If you have other staff management questions that need answers, read our Expert Staff Management guide below.
Editor's Note: This post was originally published on November 2012. It has been updated for relevance and richness of content on January 2020.