Today, many of us can't leave the house without making sure we have our smartphones in our pockets. Our lives are moving faster than ever before, and we are always on the go. At VisionWeb, we know how important mobility is these days. So, jump on the convenience-at-your-fingertips bandwagon with our new free mobile app!
The VisionWeb App has You Covered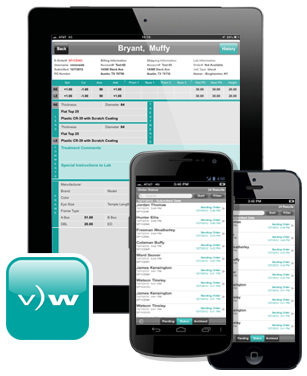 The VisionWeb App gives you the best of both worlds. You can maintain that fast-paced lifestyle while keeping up to date with all of your product orders. Whether you are taking a trip or have just stepped out of the office, you can stay connected. The VisionWeb App connects and syncs your smartphone directly with VisionWeb.com so you can:
Review your office's pending orders
Monitor the status of orders in process at the lab
Access archived orders
Navigate your orders easily with convenient search and filter options
You will have the ability to stay connected to your orders at all times. If you are out of the office and receive a question about an order or want to review an order from your staff before it goes to processing, all the information you need is at your fingertips. All it takes is a phone with service and a VisionWeb account.
If you are already a VisionWeb user, then all you have to do is login with your current username and password and all your orders will appear on your phone. However, if you don't have an account, there's a simple solution. Visit www.visionweb.com and register for free! From there, all you have to do is download the app, login from your phone, and you are good to go.
The app is available for both Apple and Android devices. Apple users can download it through iTunes, while Android users can get it through Google Play, but not the Android Market, which can be seen in older phone models.
Never be in the dark about your orders no matter where you are! Download the VisionWeb App now!