This year seems to be just flying by with Halloween right around the corner! Our friends at the Optical Vision Site have come up with some exciting ideas on managing your eye care practice and how to bring that scary spirit into the office for everyone. Enjoy!
Managing Eye Care: Decorating for Halloween
170 million people plan to celebrate Halloween this year, according to National Retail Federation's (NRF) 2012 Halloween consumer spending survey by BIGinsight. That's the most people who have said they plan to celebrate Halloween in the NRF's 10-year survey history— about 71.5% who plan to get into the haunting Halloween mood.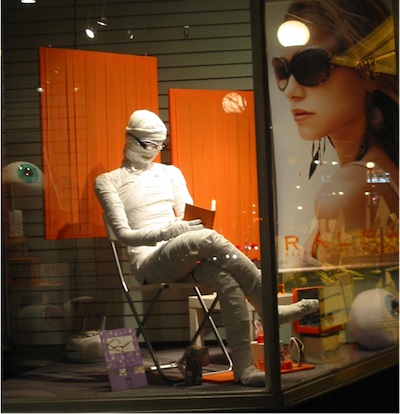 Eye Bogglers (Source)
The average person will spend $79.82 on decorations, costumes, and candy, up from $72.31 last year. Total Halloween spending is expected to reach $8.0 billion.

52.4% will decorate their home or yard, up from 49.5% last year.

45.0% plan to dress in costume, also up from last year.

36.2% will throw or attend a party.

33.2% will take children trick-or-treating.

15.1% will dress their pets in costume.
So what does this mean to eyecare professionals? This is a perfect opportunity to have some great events to bring in people with Spooktacular savings, fun, and products.
Have a Sight Night Not Fright Nite
Have a pumpkin carving contest. Post entries on your Facebook page and have your patients vote.
Have an animal costume party. Bring your animals in for pics and share on Facebook.
Have a spooky eyeball drink party.
Serve spooky eyeball food
If you knit or sew have a eyeball crochet contest.
Have a costume party and make sure all your staff get involved. Prizes awarded to the best costumes.
Order 'bat eyeglasses' and give away to your patients. Or even have a BAT eyewear decorating contest- take it to the schools.
Remember to stock up on Halloween contact lenses and post the DUTY To Warn about illegal contact lens, this is the #1 time of the year.
Halloween decorating is easy and fun.. orange and black streamers, pumpkins, gourds, and of course eyeballs… with a little red and bloody food coloring mixed in. How fun is that? Need some ideas? Check out these Halloween Decorating Ideas.