Have you consciously thought about your practice brand?

A brand, not a Logo, it's SO much more than a Logo!

We've discussed valuable information and tips on how to effectively use social media to grow your practice, but you've got to have a brand strategy in order to create effective social media accounts. Branding helps you fine tune your messaging and marketing in a focused, powerful way. Our friends at EyeCarePro are sharing their branding expertise in today's blog. Let's get started.
Branding Your Eyecare Practice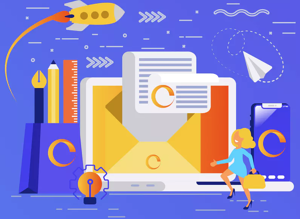 Your brand communicates your identity to your audience, so it always has to be personal. It's the opposite of generic. It's what people think of when they think about you. It's about leaving an imprint and making your practice memorable. As we get underway in 2019, you need a brand identity that people associate with your practice. A strong brand tells your community something about your practice's vibe, attitude, and approach. Lots of practices may spend a lot of time focusing on what they do, but not who they are. That's where an intentional branding strategy comes in.
Think about who you are and the identity you want to project into the world. This is not a decision made in a vacuum. The personalities of the doctors and staff in your clinic will play a role in how you define who you are. So will things like dress code, focus, decor, the way you set up your lanes and intakes, the way staff answer the phone...everything comes down to questions like:
What do people think about when they think about your practice? What words, feelings, color, or ideas come to mind?
What would you like patients to think about you?
Are you a family practice? An optical boutique? A medical powerhouse?
What are your practice ambitions for growth and do you have a plan to implement that?
These are the questions you need to consider as you consciously craft your practice brand.
How Do I Get Started?
Our favorite advice is to look for metaphors and descriptors that "feel right" when you think about these questions. This will help you and your staff to better personify the brand. Strategize on the answers. This kind of soul-searching will only serve to help your practice develop a clear and effective brand strategy, essential for growth.
Articulating and crafting a brand identity is not easy.
That's why EyeCarePro has created a Brand Audit and Implementation Guide for your practice. Download it below from their website.


EyeCarePro has been focused on optometry marketing for 15 years. They provide a variety of powerful and results-driven solutions to eye care practices which directly enable doctors to scale up and grow. They offer an impressive volume of tools, tips, and strategies you can use to develop a powerful online presence. Check them out and learn more about how they can help you grow your practice.