Shane Shepherd, whom you might know as the presenter for expert billing webinars, built our Revenue Cycle Management team at VisionWeb. He brought with him tons of billing, coding, and claims processing experience from years of working with eyecare practices. He's dropped some insurance related knowledge for us that we hope you'll find useful when dealing with patients paying with insurance cards.
Today, he is talking about common questions he gets surrounding primary, secondary, replacement, and supplemental insurance claims, specifically in regards to Medicare.
How to Understand Primary Insurance with Medicare
How do I know which insurance is Primary?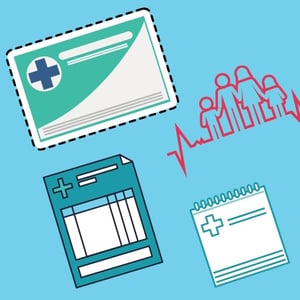 For starters, it's not a cut and dry process to determine which insurance is primary, especially when Medicare is involved. Half the time patients don't recognize Medicare as insurance, or understand that it is applicable to their optometrist visits.
So how does someone tell what type of coverage the patient has?
There are four choices: Medicare, Replacement, Supplement, and Secondary.
If a patient has a Non-Medicare insurance card but has "Medicare" printed on it, that card is likely going to be a replacement or supplemental policy, but which one is it?
It's an important distinction as Supplements typically pay what Medicare approves but doesn't actually pay. Examples of these charges are deductibles and co-insurance. A tell-tale sign that it's a supplement is that the card will usually list a "Plan" on the card, most common being Plan F. The Plan is the supplement, which makes Medicare the primary.
Someone that presents you with a card that mentions names like Medicare Advantage, Secure Horizons, or Medicare Gold is providing you with a replacement. It's replacing Medicare and that makes it primary. Your tipoff that you're working with a replacement plan is the mention of co-pays or deductibles along with a name similar to the plans highlighted above.
Lastly, if the card looks like any other insurance cards, meaning there's no mention of Medicare anywhere on it and it doesn't have a cryptic name that insinuates the patient is older (like Secure Horizons), then it's probably secondary to Medicare. That means it has its own set of benefits that aren't developed in relation to Medicare. Often those cards don't pay for copay and co-insurance.
---
We are full of useful tips to help improve your claims management in our ebook on 5 essential insurance reports. Click the image below to download it and find out for yourself.
Editor's Note: This post was originally published on May 7th, 2015.