Evaluating your staff and your workflow to see where your team is spending most of their time and what parts of your workflow are being neglected is an important step in making necessary changes in your practice. Efficiently staffing the right team can have a big impact on your practice and your performance.
An optometric billing manager equipped with the right tools can transform your inconsistent billing and claims workflow into one of the more efficient parts of your practice. We've got a list of questions to ask yourself in order to help determine if you should bring on a new team member, or reallocate responsibilities among your staff to put more emphasis on improving your billing and claims processes.
5 Questions to Ask Yourself to Determine if You Need an Optometric Billing Manager
Do you have an ever increasing stack of denied and rejected claims?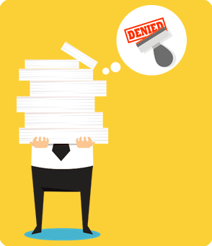 Claim rejections happen when claims don't meet the basic format or data requirements in order to be submitted to the payer, and denials are claims that have been received by the payer but didn't result in reimbursement by the payer. Ignoring denials and rejections is only going to cost your practice money. If you have multiple team members submitting claims, because you don't have a dedicated biller, it could be causing an increase in errors from duplicate claims or miscommunication.
Do you have a high number of outstanding collections?
Staying on top of collections isn't the most fun job in the world, but someone has to do it in order for your practice to get paid. The more payments you let build up, the less money you're making and the harder it will be to collect on those payments in the future. Having a trained biller who has the tools to check for insurance eligibility, communicate practice payment policies, and can set up payment plans will help you avoid late payment collections.
Do you have a good grasp on your practice's billing and claims processes?
As an OD you get wrapped up in patient care, which can cause you to be pretty removed from the billing and claims processes in your practice. The more you understand, the better you'll be able to help allocate your staff and resources.
Now could be the perfect time to evaluate your billing workflow. Check out what software systems and claims management solutions are out on the market so you can take that next step towards claim filing efficiency.
Do you regularly monitor billing reports?
In a busy office, it can be hard to to find the time to monitor reports, but not paying attention to things like accepted claims reports, ERAs, aging reports, and accounts receivables might cause you to miss out on important things that require attention from you or your staff. A dedicated billing manager should be able to stay on top of weekly or monthly reporting to keep your practice on track.
Do you currently have a staff member dedicated to billing?
If you already have a team member solely dedicated to billing it might be better to evaluate if that team member has the tools they need to make their processes more efficient. Sit down with your biller and really understand their daily tasks to determine if there is anything you can do or add to your practice that would help make things more efficient.
If you're looking to increase your practice efficiency with practice management and EHR software that has claims management functionality - check out Uprise!