The importance of approaching patient care with a sense of emotional intelligence might be familiar to some, but a newer concept for others. Emotional intelligence is the ability to read and respond to emotions through body language, tone, and verbal responses in order to deepen your understanding of the world and interpersonal relationships.
There are a handful of resources online that discuss the facets of developing emotional intelligence for personal growth, but we want to focus on eyecare today. We'll highlight a few ways that high emotional intelligence can help every member of your staff not only improve communication with and care for patients, but also with their fellow team members.
How Emotional Intelligence Applies to Eyecare Professionals
See why developing emotional intelligence techniques techniques might apply to your role specifically below: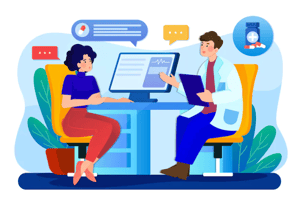 Front Desk
The front desk staff is usually the first and last touch point for patients, so they can get to know patients better through non-health related conversations. This is the first step to establishing trust. Letting patients know how long they'll need to wait and when they'll be seeing the technician and OD is sometimes all it takes to quell nerves about the exam. The same applies to payment. Insurance and payment is a salient concern for most patients visiting the eye doctor. They want to make sure they know how much the exam will cost them up front, which payment methods you accept, etc. Making eye contact and demystifying the insurance process for new patients can make them feel more comfortable returning to the practice.
Optometrist
Of course, optometrists are generally excellent educators, but they should also be good at listening to patients' concerns and asking questions in return. Read facial expressions of confusion or concern as cues to check in with the patient to see if they have questions. In order to make sure the patient feels cared for and heard, ODs can ask affirming questions in the exam about their vision, their diagnoses, or their prescription. Most of the time, patients might not know how to ask for clarification on something they feel like they should understand. So, it's helpful to give them the opportunity to bring up those concerns throughout the exam.
Optician
For opticians, we recommend reading up on body language cues and how they can relate to and encourage sales. When opticians are asking questions about customer's habits, they usually emphasize how different frames or contact lens options will complement their existing lifestyle. However, it's important to read the customer's body language based on how much detail they share, which parts of their life they emphasize, and how interested they seem when you mention things like second pair frames, dailies, polarized lenses, or prescription swimming goggles. If the customer is turning away from you, looking at frames outside of those you recommended, or not seeming to answer your questions, they might desire more time to browse on their own.
---