The patient should be the number one priority in your practice at all times. So what are some of the ways you and your team go above and beyond to provide the best possible patient experience? The better the experience your patients have, the more likely they are to purchase products from your optical shop, and the more likely they are to return to your practice in the future, or better yet, spread the good word about your practice.
As part of our Week 2 topic from our 4 Weeks to Bigger Profits in Your Optical Dispensary eBook, we'll go over three areas you can focus on in your optical shop to improve the patient experience.
3 Strategies for a Better Patient Experience in Your Optical Shop
Understanding Why Your Patients Don't Like Buying New Frames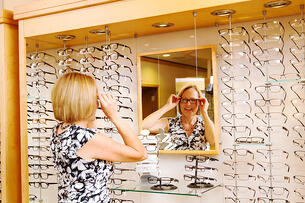 Being able to offer great customer service in your practice starts by understanding the needs and wants of your patients. Some people dread the eye doctor, and dread picking out new frames. Let's take a look at a few of the reasons that we found patients don't like picking out and buying new frames:
Cost
Need for approval from peers
Time consuming
Decision making
All four of these things are reasons that your patients might be stressing out in your dispensary. Understanding these pain points can help you be more accomodating to the needs of your patients.
How to Help Patients Find the Perfect Frames
Once you understand the stressors that some of your patients are experiencing you'll be better equipped to help them find the perfect frames for them. Here are a few strategies you and your team can start trying out in your practice:
Scope out their preferences with questions
Offer suggestions an alternate options
Address any concerns
Follow up after the purchase
Building Positive Relationships and Loyalty with Your Patients
Positive patient relationships are one of the best marketing tools for your practice. The better your relationships are, and the more products you sell will get your practice more known among the patient's friends and family. A big part of a patient's experience falls in your dispensary when picking out new frames. Having opticians that understand the importance of the relationships they are building can have a big impact on your practice. In the last article from Week 2 of our eBook, we go over a few different reasons why maintaining honest coversations and strengthening those relationships is so important.
The single most important factor in increasing customer loyalty is reducing the amount of work the customer has to do in order to get their problem solved.
82% of people have left a company because of a bad customer service experience.
Want more details on building those patient relationships? Download the full eBook today!