Your optical dispensing sales are up against a lot of competition. However, they are still an important contributor to your optometric practice profits. If you're struggling to capture optical dispensing sales in your practice, there may be a fix simpler than you think.
Smile.
Have you ever notice how most advertisements show a person smiling? It's not a coincidence. Smiling faces in advertisements improve the buyer's perception of the product and desire to trust the person selling it to them. Can you use the same approach in your optometric practice?
Whether on the phone or in person, communicating with a smile can positively influence the patient relationship. In this post, we'll explain how the power of a simple smile can be used to improve your optical dispensing sales.

How a Smile Can Improve Optical Dispensing Sales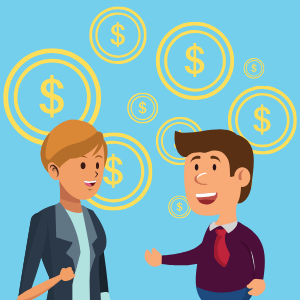 A Smile Builds Trust
People buy from those they know and trust. In the optometric industry, gaining patient trust is important for getting patients to come back. More importantly, earning trust helps build a relationship that could lead to more sales and good word of mouth.
Whether the patient is a complete stranger, or a loyal patient returning for a follow-up, you should greet each patient with an honest smile as if you were greeting a friend. A welcoming smile makes you more approachable so you can gain the patient's trust and educate them on the importance of purchasing frames from your practice.
A Smile Lowers Stress
Having to make a decision can be stressful for some people. When the decision is going to affect their vision, stress levels can increase. If your patient is stressed, the odds of them having an enjoyable enough experience that they will purchase frames from your practice can decrease. While the anxiety may lead to an impulse purchase, it could also lead to an unhappy patient, a loss in trust, and frame return.
With a smile, you can help your patient reduce stress and help them make a clear buying decision. Studies have shown that smiling can help people recover from stressful situations. To help alleviate a patient's stress, smile while assisting them. Because smiles are contagious, there's a chance that they will mirror your facial expression and smile back at you.
A Smile Increases Patient Spending
Still not convinced that a smile can positively increase your optical dispensing sales? One article claims that smiling can result in a customer spending 40% more.
For more tips on increasing your optical dispensary profits, download our free 4 week guide.
Editor's Note: This post was originally published on June 29, 2017. It has been updated for relevance and richness of content on March 5, 2019.