When you've experienced a big setback, it's difficult to figure out where to start to get yourself back on track. For an optometry practice, you'd need to figure out a way to keep profits high, maintain a flow of new patients, retain staff even during uncertainty, and reduce technology expenses.
In fact, those are just a few of the many things you could do to get back on track. Today, we're going to go over these four important ways to rehabilitate after a setback. Attend our webinars this September to take a deeper dive into these topics.

Optimizing Your Optometry Practice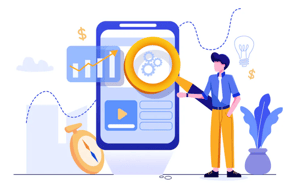 Profit Boosting
The first step is mitigating any financial loss. This can be done through managing and maximizing your existing inventory, resources, and tools. Starting with the information you've got from your practice performance thus far, use data analysis and reporting tools to organize your frame board, claim reimbursements, and overall revenue streams. Then, you can see which investments aren't paying off and what successful areas to move your resources into.
Patient Experience
Delighting loyal patients and attracting new patients is especially crucial after a setback. Go through your entire practice workflow from the patient's perspective to see if there are any small or large changes that would reduce wait time, improve communication within and outside of the exam, or reduce confusion around billing. Learn how to implement these changes from billing & patient communication experts
Business Building
Other areas of your business can help you improve patient care, such as marketing and website changes or expanding the medical scope of your practice. These actually go hand-in-hand because even if you start with the medical model in optometry, you'll need to communicate that you offer special medical exams to potential patients. Growing the business side of your practice usually involves investing money, but there are ways you can execute growth campaigns without breaking the bank. We discuss these methods in upcoming webinars that you can register for here.
Technology
Last but not least is taking a long and hard look at the tools you're working with. From patient outreach to medical devices to your EHR, switching software usually isn't as painful as putting up with technology that is slowing you down or not supporting your new growth avenues. Certain tools allow you to expand the scope of your practice, reduce patient-to-doctor contact, or even to accommodate more patients per day. You can even choose cloud-based systems that can allow you and your staff remotely.
Our OD Productivity Masterclass Webinars can help you with all of these optimizations.