There are many ways to delight your customers when it comes to the holiday season, but don't forget about your staff. Giving gifts to your staff can show your appreciation for their hard work, spread the festive cheer, and also create a fun atmosphere in the office.
We know it can be overwhelming to deal with the holiday rush and personal time off, so let us do the heavy lifting when it comes to deciding what to buy for your team. No matter what budget you're working with, we have plenty of ideas for individual or group gifts for your eyecare staff.
Show Your Optometry Staff Appreciation this Season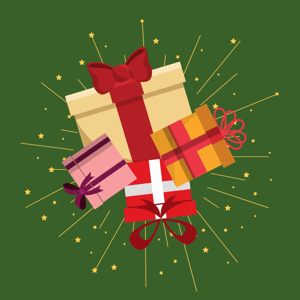 Easy Gifts
If you're strapped for time or on a strict budget, these gifts are still sure to keep everyone happy. If you're doing Secret Santa or White Elephant, choose a day where everyone can come in with their gift and look forward to a few festive snacks and drinks at lunch.
If your practice truly doesn't have much time to spare, you can organize a special team lunch from a nearby restaurant. Be sure to poll your team for their choice of restaurant before you decide. If that doesn't work, everyone appreciates an extra day of PTO, an end-of-year bonus, or a simple giftcard.
Team Lunch
Floating Holiday
Amazon or Visa Giftcards
Gifts by Interests
For a small team that's tightly knit, it makes more sense to give gifts that are tailored to the individual. Think about their TV or movie interests, their hobbies, or things they've mentioned in passing. These may be a bit pricey if you have many gifts to give.
Hulu/Netflix/Spotify/Amazon Prime Subscription
Gifts that Give Back
Gifts that give back to your community are great if your practice is socially and ethically conscious. You can donate to one charity of your staff's choice, so that your donation has more impact. If your staff can't decide, you can split the money equally between a few local charities. Also, if you're all feeling generous with your time, you can close the practice for an afternoon to volunteer at a nearby soup kitchen, collect goods for a charity organization, or do something local like a fun run.
Be sure to share photos of whatever gifting activity you choose on social media, especially if you're all wearing cheerful outfits.
---
Always looking for more fun ideas to spice up your optometry practice? You can receive updates from our blog weekly, daily, or even instantly.
Originally published in December 2018