Before you continue to read this article on expanding you paid search traffic, we suggest you read these two articles on using Google Analytics and managing your Google My Business pages first. It's crucial you set those two up before launching any Google Ads campaigns.
We're all familiar with the various ways ads pop up when you're browsing the internet. However, it can be tricky to launch an ad campaign without understanding what everything means. Today we are focusing on the ads that show up when anyone searches for terms on Google. They are generally the first 2-3 results, so that's where you want your practice to be. That's why we've created this basic introduction into making a search ad campaign to drive potential patients to your website. We'll go through the planning, execution, and monitoring steps in today's blog.
Managing Paid Search Ad Campaigns for Optometry Practices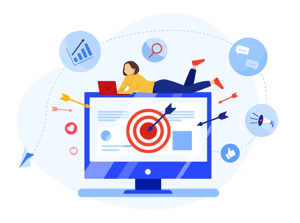 Set your goal
First, establish what you want these ads to accomplish. The wording and the keyword targeting change based on what you set your goal as. For example, if you just launched or redesigned your website and you want new traffic, that's one type of goal. Another would be if you want people to click to make an appointment in your digital portal, especially if you have a deal going on for a limited time. Another goal could be that you want people to purchase products through your site, which means you might want to set up Google Shopping ads. If you want to accomplish all of these things, that is doable, but you'll need to make an ad campaign for each goal. Title the campaigns as per the desired outcome.
Keyword research
Before you start writing, you'll need to know what searches you'd want to show up for. Obviously, broader and commonly searched terms like "optometrist near me" will have high competition and might not be effective for what you need. There are endless options for searches that you might want to target depending on your location, your patient demographic, and any selling factors of your practice. We recommend that you spend awhile in the Google Keyword Planner tool searching anything that pops into your head and writing down the ones that tend to have ~1000 searches a month and low Cost Per Click (CPC) so that you can bid on those. Here are a few ideas:
eye doctor [insert suburb or zip code or city]

+ [insurance company you accept]

optometrist [insert suburb or zip code or city]

+ [insurance company you accept]

optometry practice [insert suburb or zip code or city]

+ [insurance company you accept]
Create the text
Now, this is where it can get complicated. You'll need to write headlines, provide URLs, and add descriptions at least. You can select the "responsive ads" option if you want Google to mix and match these three to A/B test which might be the most winning combination. Keep in mind that you don't have to include the search keywords in this text, but expand on why your practice fulfills their need. Keep it short and informative. We recommend using this text to advertise discounts, specials, and any enticing sales that are going on in your practice.
Budget
Earlier, we talked about targeting keywords with low CPC. This isn't always the strategy you will choose. You might rather target those with high CPC and get a few, more valuable leads. That is your choice, but we recommend setting a monthly budget and not letting your campaign spend more than that. Start out with something small (like $200 in 2 weeks) to test how well your ads are doing. Once you have more information about how audiences are interacting with your ad, you can increase the budget and tweak the parameters to be more specific.
We know that this can seem intimidating, but once you're in Google Ads, the system is designed to be user friendly. They'll provide you optimization suggestions if they think a headline is too wordy or if your display ad image is too grainy. Accept their suggestions and continue to check the progress of your ad weekly and monthly after it's launched.
If you want more digital marketing tips, download our free ebook on increasing profits through business strategy.