For optometrists who want to lead multi-location practices, grow their name in the industry, or teach courses at prestigious optometry schools, they'll want focus on building their leadership skills and background. Following powerful business leaders and other industry bigwigs on LinkedIn is a good start, but taking action to improve your management skills and meeting like-minded ODs requires more active efforts.
With a mixture of hard and soft skills, any OD can become a leader in the eyecare industry. Learning from existing leaders, we've found these tips to be helpful on your way to success. Keep reading to discover what we found.
Leadership Development Tips for ODs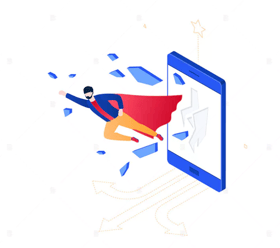 Networking
Although networking can sometimes feel forced and difficult, it shouldn't feel this way when the event is set up properly. We recommend attending cocktail hours or interactive events (i.e. Top Golf or day trip) where the focus is on an activity or just a low-stakes "getting to know your peers" event held locally. You can join Facebook groups, engage with ODs on Facebook and local organizations to find an event calendar. This can be your initial foray into building genuine connections with ODs in your area.
After you feel comfortable at local events, attend regional or state-wide panels, conferences, and more business-focused discussions. Those events usually include other optometry professional looking to grow their network just like yourself. Finally, we suggest building up the confidence and clout to host a get-together yourself so that people associate your name with a successful event.
Leadership & Skill Building
There are several qualities every leader needs to hone before they're able to inspire change and growth within their industry or even their team. We highly recommend enrolling in online leadership training courses, emotional intelligence training, and possibly a few business or management courses from your local university.
If you're still in the early stages of your career, you can start by reading some business and leadership books that we recommend in this blog. Reading the stories of admirable leaders can help you see how your individual interests, background, and talents inform what type of leader you might become.
Communication Practice
In order to affect change in your community or healthcare, it's vital that you're able to communicate your passions, reasoning, and platform to start intelligent discussions. While most doctors are inherently skilled at one-on-one interactions, influencing a group of people and appealing to a wider audience requires both business acumen and personable behaviors. Practice presenting to large groups of people by enrolling in Toastmasters or speaking on an eyecare panel that discusses a topic you're passionate about or have expertise in.
We hope to see you presenting on panels and attending events as a keynote speaker soon!
---
For more advice from successful OD leaders, read these 12 Insider Secrets from America's Top ODs.