Disagreements in the workplace can slow down your office workflow and add stress to your entire optometric practice. Although your staff may get along 95% of the time, there will always be times where conflicts arise. When your staff has disagreements, you have to resolve them quickly before they impact your entire team, your workflow, and your profits.
Below are conflict resolution tips to keep the peace in your optometric practice.
Tips For Resolving Conflicts In Your Optometric Practice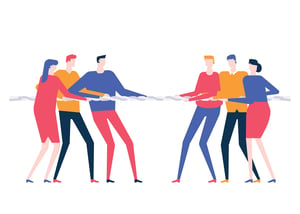 Listen To Both Sides
When your employees are in an argument, you need to pull the employees aside and give them a chance to tell their side of the story to uncover the reason for the feud and the desired outcome. When you have this discussion, focus on the situation and don't let biases towards the individuals influence your perception of the situation.
Identify The Cause of Conflict
After the individual has told their story, ask questions to dig deeper into the underlying cause of the conflict and rephrase their responses to clarify the situation in your own words. As you dig deeper, find areas of agreement and identify the most important area of conflict between the employees.
Find A Solution
Consider their desired outcomes when looking for a solution to resolve the conflict. After you have identified the cause of the conflict, determine what issues you can resolve, and develop a plan of action to work through the disputes.
Document The Situation
Review the situation and propose your plan of resolution with the staff and get them to agree and sign off that you have the information correct and that they are happy with the proposed plan. Then, record the incident in their employee file to refer to again later if the conflict doesn't get resolved or occurs again. While you're at it, update your employee handbook to try to avoid the situation in the future.
If the employees are not able to work out their differences or fail to accomplish your resolution tasks, then it may a be time to cut ties with the bad hires.
---
Subscribe to the blog to get more optometry practice tips.
Originally published in January 2018